Lifetime Discount Cards to Loyal Clients
5% and 10% Lifetime Discount to Loyal Clients
My Plumber is proud to announce that it has set up a club starting today that entitles loyal clients to 5% or 10% off their future plumbing labour and powerflushes.  We hope to reward all our clients who regularly using our plumbing services to carry out work in their own home or their rental properties or work places.   The card is designed to thank you and reward you for your loyalty to us.  If the card is well received, we may extend the services covered to our other services.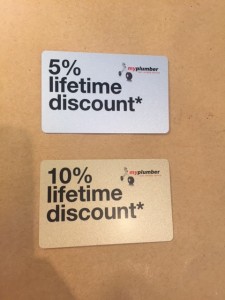 Terms and Conditions
1) Scheme starts 11 June 2015
2)  You must have  a boiler or bathroom replaced by My Plumber after this date.  If you have both done at the same time, for the purposes of this scheme, this will count as one job. ("Qualifying Job").
3)  Discount card will apply to plumbing jobs or powerflushes with a value of less than £500+VAT.  The discount applies to the Labour element of the job.  For example, if the job costs £500+VAT and the labour element is £300+VAT, the client would benefit with a 5% or 10% discount off this amount.
4)  5% cards given to clients after a spend of £3,000+VAT
5) 10% cards given to clients after a spend of £8,000+VAT
6)  The card applies to all plumbing jobs and powerflushes subsequent to the Qualifying Job.
7)  Some services are excluded:  Gas work, Handyman work (and all multitrades), Electrical work.
8) Applies to work between 8-5.30, Monday to Friday.
9)  Can be used for multiple properties.
10) No limit on how many times the card is used every year.
11)  Only applies to work in London postcodes (we do not operate outside London presently)
12)  Director to be given discretion to make a decision on any disagreements. This is not supposed to be something we ever argue over!
13)  Terms subject to change at any time
14) Card only valid for card holder and card holder properties (card holder must be person paying the bill)
15) Card MUST be presented to engineer at time of job or, if a Landlord, must be mentioned at time job is booked in.
16)  Card may not be used on Maintenance Contracts without agreement of a Director.
17)  No discounts will apply if payment is not made in full on the completion of the job.
18)  Card may be withdrawn at any time if the card is misused in any way or if there is a serious breach of these terms and conditions.
19)  Card may not be used in conjunction with any other offer.
Lifetime Discount Cards to Loyal Clients
Need help? Hire the London Property Service experts today by giving us a call on 020 3078 5920.