Which Saniflo System is best for me?
Saniflo is the leading manufacturer of macerators, grinders and pumps that can be installed almost anywhere to create unique bathrooms, kitchens or utility rooms in even the smallest of spaces.
When it comes to picking the best macerating system, always consider the following factors so that you can get more value from the product:
Efficiency of the macerating pump – You have to know the features or specs, such as the amperage, voltage, horsepower and a few other things that make the macerating pump reliable.
Gallons per flush – If it is a water-saving toilet, then you should consider this because some macerating systems can use a lot of water to clear the waste.
Installation method – A Saniflo macerating toilet system is relatively easy to install compared to traditional toilet systems.
If you are considering installing a Saniflo system, or need some further advice about which Saniflo product is best for you, why not give our friendly and knowledgeable team a call to find out more about how we can help.
Now about which Saniflo would be best for your house, we have chosen three best Saniflo models, based on their popularity and customer reviews.
---
Saniflo SaniPLUS
Saniflo SaniPLUS comes equipped with a macerating pump, along with the bowl and tank, ultimately making it less time consuming as you don't need to go shopping for individual parts and components.
It has a pretty standard design with a white elongated bowl and doesn't look out-dated.
It's notably quiet in its operation which is fantastic as no one wants to be woken up in the middle of the night to clunking and sloshing noises from the pump and tank.
It can be installed up to 15 feet below the sewage line which is perfect for many basement toilets. Moreover, it really isn't consuming much water with a one-point 6-gallon flush.
With a decent warranty of 2 years, you'll always live peacefully as if something goes wrong it'll be looked after.
However, it cannot fit with those who are on a tight budget. With various add-ons included, you may expect to pay fairly more amount than other systems.
---
Saniflo SaniBEST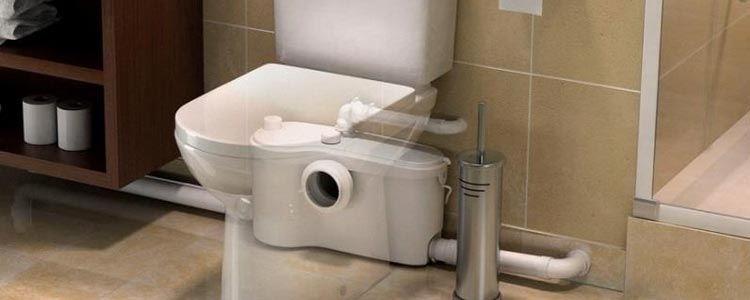 This is an up-flush toilet kit including the tank and macerating pump that effectively breaks down the contents of your toilet and pumps it upwards to the sewer line.
It noted as a heavy-duty solution, consumes 1.6 gallons in its flush, and also described as quiet. However, some consumers have complained that when the pump activates it becomes rather loud. So, that's something to consider before buying.
Installation is fairly straight forward and the design is minimal with white, easy to clean porcelain material which looks hygienic too.
But in this competitive market, this isn't be anything cheaper.
---
Saniflo SaniCompact 48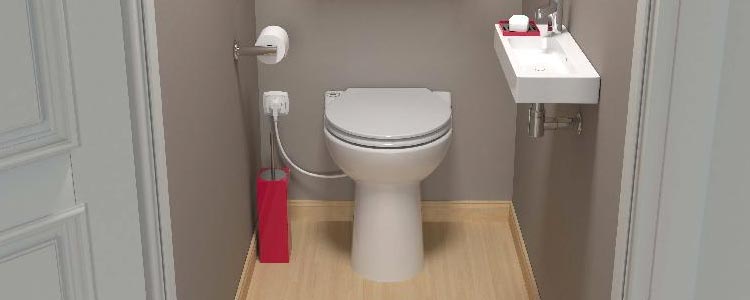 The Sanicompact 48 is an ideal solution to fitting a toilet in places where a conventional flush toilet is unfeasible. A waste pipe from a sink can also be linked up with this toilet which makes an ideal solution for building a half bath where a standard toilet would be impractical. Moreover, this small toilet has no cistern.
The Sanicompact 48 does not use a conventional flushing system. Instead, once the flush button is pressed, the toilet fills itself with a set volume of water, then together with the waste, it is drawn through macerating blades and pumped out through the waste pipe.
This toilet has a high-efficiency cleaning system for removing waste. In areas with hard water, it is advised to decalcify it once a year to prevent valves sticking open.
There are two flushing options both operated by a button, a 1 gallon and a 1.28-gallon flush. The system operates on a timer rather than measuring the amount of water used.
This is a little more complex to install than a standard flush toilet. An electrical outlet is needed nearby to provide power to the pump and macerator. The electrical outlet used to power the toilet should be connected to a ground to reduce the risk of electric shock.
The Saniflo SANICOMPACT is designed for an exact set of situations where using a standard toilet is both impractical and too much costly. This toilet is an excellent option for those who has a problem with the distance from the main waste pipe or has a tight space to install a toilet system.
Like all other Saniflo models, this also costs a little more, but with a standard 2-year warranty it is a good value for money.
---
Among many other positive aspects, we've summed up 10 good reasons to install a Saniflo system in your house.
10 reasons to install Saniflo:
1. Saniflo uses a different technology but gives an excellent end result. It is properly sized to handle all other fixtures like sink, shower as well as tub. Its popular models work up to 12 feet below and 150 feet away from the septic tank or sewer line.
2. It is so much flexible to fit anywhere which a traditional plumbing can't.
3. It doesn't need to dig up concrete floors/walls to install a drain. The smart drainage system makes it a good solution to new age plumbing challenges.
4. Saniflo doesn't require any special maintenance as the pump is sealed for life and may outlive the toilet. It leaves you a possibility to install a temporary toilet.
5. Saniflo is the most space-saving toilet system. It can fit anywhere like, underneath the staircase or even in a good-sized closet.
6. As it doesn't need to dig a hole, an entire Saniflo system can be installed in about half a day, saving time and money.
7. Saniflo systems are environment-friendly with comparatively low water consumption; as little as one gallon per flush.
8. At the time of installation, Saniflo doesn't make much noise and can sit right on top of any floor. The system is also quiet.
9. It is very economical as it uses above-floor technology. So, saves labour costs while installing in the basement.
10. Saniflo systems can be installed for life and with low installation charges, it proves to be a great value for your money invested.
Which Saniflo System is best for me?
Need help? Hire the London Property Service experts today by giving us a call on 020 3078 5920.