Different Types of Showers and Shower Heads – How to Choose the Best One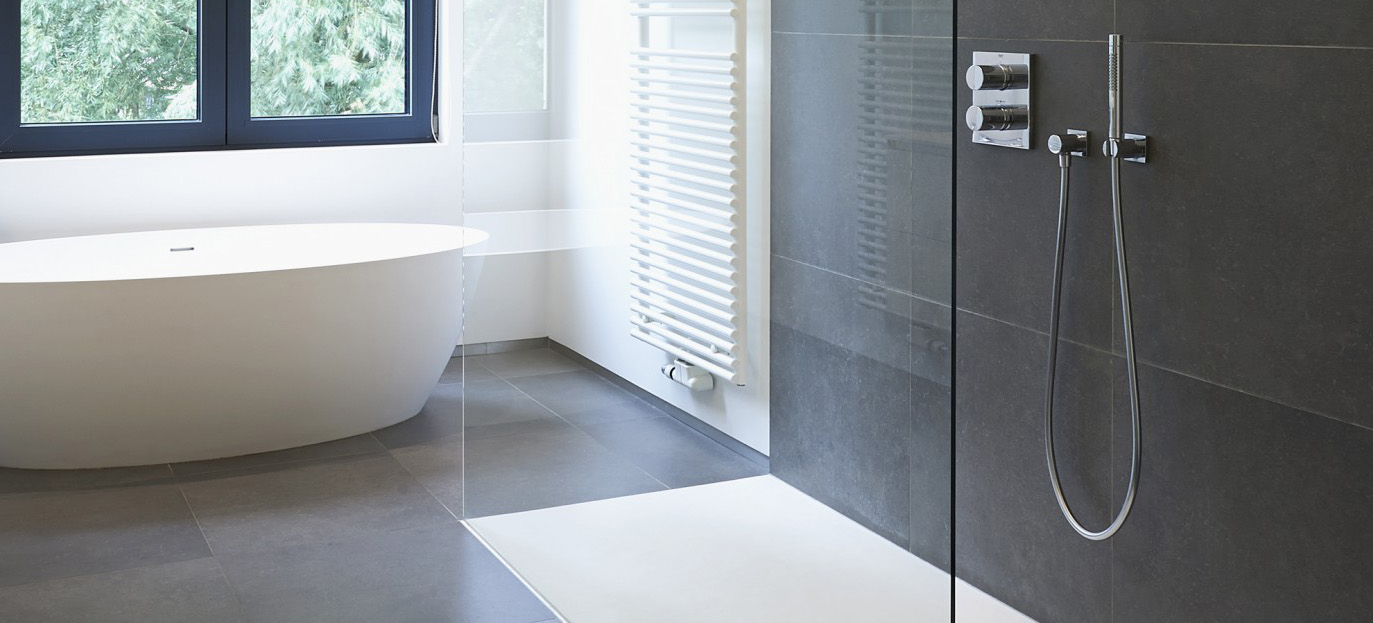 Showers are one of the most invigorating experiences we have daily, not only contributing to our cleanliness but also stimulating our creativity and relaxing the mind and body. Are you on the market for a new shower? Well then, you've come to the right place.
In this blog post, we discuss the things you need to consider before you choose a shower, the different types of showers and how they work, and the variations of shower heads. You can find out how to select from various design choices, and how much does it cost to install a shower.
Things to Consider Before You Choose a Shower
Before you jump in and buy a shower, you first need to take several considerations in mind. One of the most important factors is knowing the type of water heating system you have, the water pressure in your home, and the boiler type you have. These are decisive elements for helping you proceed to the next step of selecting and installing the right shower model.
What is your water heating system?
The heating system of your home plays a determining role in the type of shower you ultimately end up choosing. The water heating system refers to the method, in which the pre-heated water arrives through the source to your shower.
The three most common heating systems in the UK are combi boilers, gravity-fed, and unvented systems.
Combi boiler
A combi – or combination boiler – heats the mains water at the moment to deliver it around your home. One of the most common types of boilers in the UK, it typically functions without a tank or water cylinder. The combi boiler system is ideal for providing hot water on demand.
It is ideal if you're looking for showers for high water pressure. On that note, the best shower to use with a combi boiler is a shower mixer.
Gravity-fed system
The gravity-fed water system is more common in older homes, and it is notorious for poor water flow and weak pressure. How does it work? It features a cold water tank, usually found in the loft space of the home, and a water cylinder.
Although well-known for poor water pressure, you can still get a decent experience with a shower pump alongside a power shower. Using a shower pump is ideal for large properties with many showers. One of those pumps can feed two or three showers simultaneously.
Unvented system
With the unvented system, you have a separate hot water cylinder that takes water directly from the mains supply. The unit stores the water under sustained pressure, and it's ready for use at any time.
Typically, an immersion heater or a boiler that operates under high pressure heat the unvented water cylinder. This allows for the release of large volumes of hot water, ultimately leading to high water pressure and powerful water flow.
What is the water pressure of your home?
The water pressure of your shower can make or break your shower experience. Ultimately, this will determine the type of shower heads you might want to purchase. Find out what the best high-pressure shower heads are, as well as the best showers for low pressure.
And when you need help to determine the water pressure in your home, you can always call a professional plumber near you. They are ready and able to give you the best advice!
Your boiler capacity
The capacity of your boiler has a decisive role in the selection of your new shower type. Larger boilers usually store more water, but take up longer to heat. While smaller ones usually heat faster, but may, sometimes, be inefficient.
Types of Showers and How They Work
The world of showers is grand. Knowing how to find out which type of shower is best for your home is a virtue. So, in choosing a shower, we've prepared a handy guide to help you make the best choice for you and your family.
Thermostatic mixer shower
This type of shower incorporates the element of a thermostat, which regulates the temperature of the water. The thermostatic mixer valve automatically adjusts the temperature of the water, preventing an over-heated stream.
In addition, the water flow isn't affected if someone flushes the loo or uses another tap in the house. With a thermostatic mixer shower, you can save energy on your water heating and reduce your monthly bills.
Pros: It's an excellent choice to prevent scorching water burning young children or elderly in the home. The automated water temperature control gives peace of mind.
Cons: It could be a costly choice – ranging from £60 to £400.
Manual mixer shower
A manual mixer shower uses hot and cold water supply to give you the pleasure of mixing your water the way you like it. Unlike the automated thermostatic mixer, with the manual one, you have to mix your water by hand. Most of UK homes use it and is one of the most traditional shower types available.
Pros: Easy to use and simple to install. The manual mixer shower works well in homes with high water pressure. 
Cons: This type of unit doesn't improve the water flow, so you can't expect miracles if your water pressure is too low.
Power showers
Power showers are like mixer showers – they also use hot and cold water, which you manually adjust. The difference is that such showers come with a special pump, boosting the flow of released water. They add an exquisite feel to any shower experience, making you feel as though you've just come out of the spa.

Pros: Ideal for anybody looking for a relaxing spa-like experience. The power shower makes the best of your high water pressure.
Cons: Consume more water and energy than other shower types. Those units can be costly on your monthly bills.
Electric showers
The electric shower heats water on demand directly from the mains cold water supply and "passes it over a heating element inside the shower unit."
Pros: You won't run out of hot water soon. To that, it's more affordable than the other shower types.
Cons: They are a bulkier option compared to mixer showers.
What is the difference between a power shower and an electric shower?
While there may be some confusion about how power showers and electric showers differ, the two are definitely not the same. A power shower has an electric element, but it uses a pump to boost the flow of water. The unit uses a source of electricity, but it doesn't heat the water with electric current as an electric shower does. 
Digital shower
At the height of technological advancements, digital and smart showers are the latest trends in the shower industry. You can adjust their temperature to suit individual family members, and you can also see a display with information on water pressure and flow. 
Pros: Well-suited for tech-savvy individuals, who would like to set the perfect temperature for a pleasant shower experience. 
Cons: While modern, they can be a much costlier option than the other shower types we've discussed above.
Smart showers
Smart showers are just what the name implies – smart! You can control them via an app or through a voice assistant like Alexa, and you can set the temperature, flow of water, adjust it to meet your family's unique needs. They can be much more expensive than the rest of the shower, but the benefits of a smart shower are worth it.
Types of Shower Heads
After all that talk about shower types, you might think your search for the ideal shower is over. Unfortunately, not yet. You still have to select between the different types of shower heads for your home. So, let's dig in a little deeper on the best showerheads for you to choose from.
Fixed shower head
This type of showerhead can be fixed to a ceiling or a wall and is well-suited for designer bathrooms. On the other hand, if you've got a busy family that requires an adjustable or detachable showerhead, then a handheld is your best bet. 

Handheld showerhead
Their height can be adjusted easily, and they're a great cleaning companion too. The detached head allows you to reach further spots in your bathroom.
Riser rail
Available in a wide range of designs, these are detachable shower heads, that are usually fixed to a metal rod or rail. This enables you to adjust the head to the right height.
Combined shower heads
For increased versatility, a combined unit has both a fixed shower head and a detachable one. It's the ideal choice for larger families and often-used bathrooms.
Ceiling mounted shower heads
As the name implies, you mount those showerheads to the ceiling. This creates an elegant look that's ideal for a designer bathroom.
Other Design Choices
Shower valve types
Although you might give little thought on the shower valve, it can play an important practical and aesthetic role in your bathroom. The shower valve is essentially the valve that mixes the hot and cold water together, allowing you to adjust it accordingly. They come in many shapes, sizes and designs, so you can choose the best one for your bathroom.  
Shower trays
Your shower enclosure needs a shower tray. They come in a variety of shapes, from elevated trays to slimline types.
Types of cubicles
The cubicle is the enclosure of your shower. You can choose from a wide range of options, such as a corner shower unit, a glass corner unit, a chrome shower unit, a walk-in shower unit,  and many others.
How Much Does it Cost to Install a Shower?
If you're unsure of installing your own shower, you can always consult experienced plumbers to help you with this. The cost of shower installation starts around £98 per hour and may increase during the evening hours and at the weekends. Luckily, there are many perks and benefits, such as preferential prices and priority bookings for Fantastic Club members.

Key Takeaways
As you gear up to change your shower unit, think about all the factors you have to take into account before you proceed with such an endeavour. There is the water pressure to consider and the type of water system your home uses.
There are also different types of showers, showerheads and shower accessories that you should know when making your choice. Ultimately, if you're in doubt, call a professional tradesman to help you make the best decision for your home – both for aesthetic and practical reasons.
Different Types of Showers and Shower Heads – How to Choose the Best One
Need help? Hire the London Property Service experts today by giving us a call on 020 3078 5920.