Appliance Installation London
Our extensive appliance installation experience means we can fit anything from a new Bosch integrated dishwasher installation to a John Lewis washing machine or even a range cooker in your London home.
Purchasing a new kitchen appliance for your home can be exciting as well as rewarding knowing you are getting an appliance that works like new. However, if the new appliance is not installed properly, it can still create various hassles. Furthermore, finding a sufficient place to discard your old appliance can also be a problem, two issues that My Plumber can help resolve. So if you're looking for a dishwasher and washing machine installation service you can rely on, you've come to the right place.
Each of our professional plumbers is CIPHE registered, so you know your appliance will be installed professionally. Meanwhile, our gas installation team are also Gas Safe engineers to ensure your new appliance is connected safely. We can also remove and dispose of your old appliance for you as part of our professional installation service.
When you contact us for the skilled installation of your new appliance, you'll be glad to know that we have extensive appliance installation experience. Which means we can fit anything from a new washing machine to a dishwasher to a range cooker to a gas hob as well as any other freestanding and integrated appliance in the kitchen and throughout your home.
Here at My Plumber, we also believe in providing excellent customer service to complement our professional kitchen installations for complete professional service, and that is why you will find that we are Trustpilot monitored and approved and continuously receive 4 out of 5 stars from our many customers, which you can see for yourself on our Trustpilot reviews page.
If you live in London and need your kitchen appliance professionally installed, don't hesitate to contact us on 020 3078 5920 for expert service with a smile.
No matter the make or the model of your new dishwasher, you can rest assured that our expert plumbers are highly trained and experienced in its installation. In fact, when you call us for professional installation, we'll ask you for the specific make and model of your dishwasher and then print out a copy of the manufacturer's installation instructions prior to arriving at your home, so there are no complications or questions as to the proper installation. We will also complete the fitting in under 2 hours, so you can get back to your day. Our expert plumbers will come fully equipped for the task, so if any additional parts are needed during the installation no time will be wasted.
Washing Machine Installation
There are many types of washing machines on the market, and our professional plumbers are highly trained to install them all, including John Lewis washing machine installation, integrated washing machine installation, and any other type of washing machine installation.
When you contact us for service, we will also request the make and model of your specific washing machine and then print out the installation instructions provided by the manufacturer to further ensure your washing machine installation is performed according to the manufacturer's standards, so you can enjoy your new appliance installation with confidence. Furthermore, our professional plumbers can have the installation complete in no more than an hour, depending on the location of the washing machine, so we don't take too much time out of your day.
Our team of professional electricians and plumbers install a wide range of both electric and gas cooker brands, including Hotpoint, Hobbs, Belling, Beko Baumatic, Russell Hobbs, Indesit, Candy, Hoover, Servis, Cookworks, Bush and New World cookers, on a regular basis. Therefore, no matter the make or model of your cooker or whether it is a gas cooker or an electric cooker, feel free to contact our experienced team for quality cooker installation service.
We can also safely disconnect your old cooker from the gas and mains, so you don't have to. We will also test the new product to ensure it is working properly before we leave to also help give you peace of mind. And, if you need, we can also remove the old cooker and safely dispose of it to further protect your safety.
Our Gas Safe registered installers are fully trained and qualified to perform gas and electric hob installations no matter what the make and model is. You can arrange a visit for installation service any day of the week. Our appliance installation experts will come to you at the appointed time, they will start by disconnecting the gas mains and safely remove your old hob and install the new one. So you can sit back and enjoy your day while our appliance installation specialists do the hard work. If needed they can arrange safe disposal for your old appliance.
Integrated Dishwasher Installation
Integrated appliances create a beautiful, seamless look to your kitchen that is simply unmatched. However, when integrated appliances are installed incorrectly, it can affect the cohesive look that integrated appliances are much-loved for.
Integrated kitchen appliances are our speciality. In fact, our professional installers are highly experienced in installing a wide range of integrated appliances, including integrated dishwasher installation, integrated washing machine installation, Bosch integrated dishwasher installation, and more, and we can also detach, move, and recycle your old integrated appliance as well.
So if integrated appliances are what you fancy, don't trust your integrated installation to just anybody, instead work with an experienced team who has extensive knowledge with integrated appliances and can install your appliances seamlessly, the way they are meant to be, for a beautiful, flawless finish that you can be proud of. Simply contact us for a free integrated appliance installation estimate to get started.
Once you have chosen My Plumber for your professional kitchen appliance installation, when your new appliance arrives, we will arrive promptly, and with all the right tools, to safely and properly fit the new appliance. We will also take care of many major details of your installation, such as safely disconnecting the old appliance and moving it out of the way to prepare for the new installation.
Our professional installers will then go about connecting the new appliance to the gas and mains. Once the installation is complete, and the new appliance is properly in place, they will then test that the new appliance is well-connected and that it is working as it should before they leave.
They will also keep their work area clean during the installation process as well as clean up afterwards, and if requested, they will also be sure to take your old appliance with them on their way out.
In most cases, we can have your new kitchen appliance installed and functioning in just 1 to 2 hours, so if you have a new kitchen appliance that requires an integrated dishwasher installation including a Bosch integrated dishwasher installation, John Lewis washing machine installation, and more, contact us, and we can begin work according to your schedule.
Get exclusive perks by becoming a Fantastic Club member
My Plumber is part of the Fantastic Services brand - a property maintenance service company with 11 years of experience in the sector. This means that you can now take advantage of the various attractive benefits that nearly 70,000 customers enjoy on a regular basis through the company's popular membership programme.

By joining the Fantastic Club, you can not only make some significant savings on your plumbing and heating services with us but also book over 100 professional property maintenance services at promotional rates.
Get a free online quote and book in seconds
Secured payment powered bystripe

Our competitive appliance installation costs
| Appointments | 8am - 6pm | 6pm - 12pm |
| --- | --- | --- |
| First Half Hour | £57 | £68 |
| Subsequent Half Hours | £49 | £59 |
| Daily Rate | £565 | - |

| Appointments | 8am - 17.30pm |
| --- | --- |
| First Half Hour | £68 |
| Subsequent Half Hours | £59 |
| Daily Rate | - |

| Appointments | Before/After Working Hours |
| --- | --- |
| First Hour | £73 |
| Subsequent Half Hours | £65 |
| Daily Rate | - |
Complete London coverage
We've got locally based teams of certified gas-safe registered engineers, qualified plumbers and drainage specialists across London, who are ready to assist you fast and with your complete satisfaction in mind. They strive to arrive within 60 minutes to help you out, regardless of whether you're a homeowner, tenant, landlord or business proprietor located in the capital city.


Start your
own

plumbing business in the UK with us
Are you a certified plumbing expert or handyman tradesman? Then, why not explore the opportunity of becoming your own boss minus the risk of operating a business independently?
Join our family of 2000+ franchise partners in the UK and get instantly a full job schedule and access to our large client base! We'll support you every step of the way by sharing our 10+ years of experience and proven profitable franchise business model.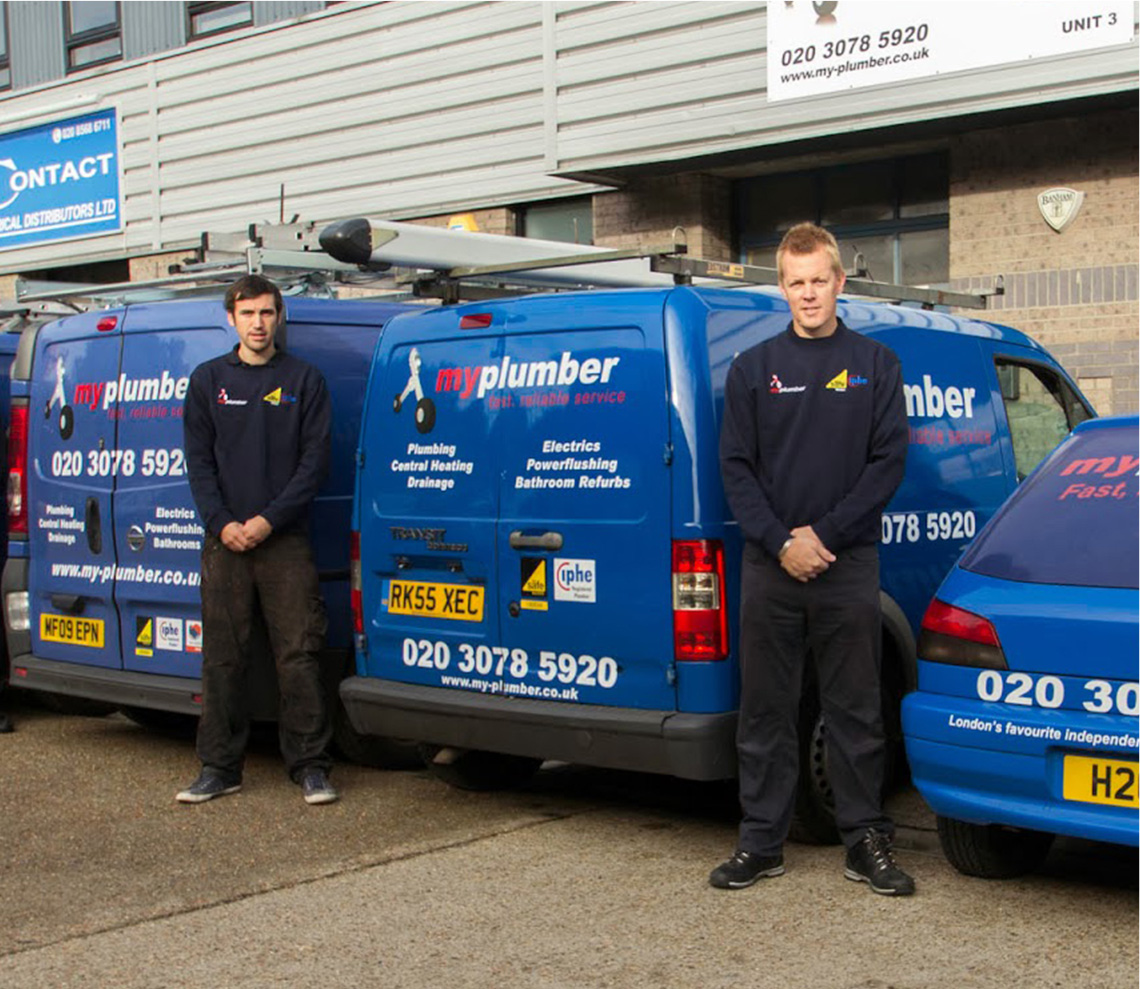 Awards and nominations
Over the past decade the My Plumber's amazing team of skilled plumbers, gas engineers, electricians, and handymen have been recognised by winning awards and being finalists for multiple awards across London.
Get a free quote from My Plumber to install your Kitchen Appliances in your London home