Radiator repair and installation in London
Stay warm and cut your heating bills with My Plumber's end-to-end radiator services
Gas Safe engineers with solutions for any radiator issue
Catering & fitting radiators or towel rails of any model
Flexible booking options and all week-round availability
12-month labour warranty on all radiator work
Getting your central heating radiator services in London is easy
Get a quote in less than a minute

Complete our online booking form and schedule a home visit with a local radiator engineer for a day that suits you best. Appointments are available as early as the same or next day.

Meet your expert

Let the engineer consult you on the best radiator installation or moving options. Each professional arrives with a range of manual, power tools and basic parts to handle anything from radiators not heating up, clicking noise, or central heating radiator leaks.

Relax, problem-free heating is guaranteed

When you book My Plumber's radiator service, we'll make sure it ticks all your trust points. With a 12-month complete labour guarantee, your home is in safe hands and peace of mind is guaranteed.

What do your radiator installation and replacement services include?
You can just go and buy radiators that suits your aesthetic feel. But is this the most efficient option for your property? Is it cost-effective? Well, our radiator installers are here to help you out with an all-encompassing, cost-efficient solution. Here's how:
Radiator on-site inspection and plumbing modifications - First, your engineer will inspect the condition of the wall and take all the needed measurements. If the appliance isn't a like-for-like replacement or does not perfectly align with your existing pipework, the gas safe technician will suggest to you minor or major plumbing modification.
Remove and replace your old-fashioned, existing radiators - The Gas Safe professionals, we work with, are capable of replacing any type of radiator unit. They will measure the replacement unit accurately, turn off the water supply, drain the system, dismount and affix the new replacement radiator.
Add extra units to the central heating system - The radiator plumber will help you define the best size and position for your new and modern radiator, according to your boiler output and size of the room where you intend to mount it. Then, he will ensure a mess-free radiator installation as close as possible to the existing flow and return pipes.
Install or replace radiator valves - Finally, the expert will screw in the TRV and lockshield valves and connect the unit to the central heating system. This will allow you to set a custom temperature at each room and greater control over the heat output of your radiator.
Testing your system - Once installed, the radiators will be tested for any signs of leaks.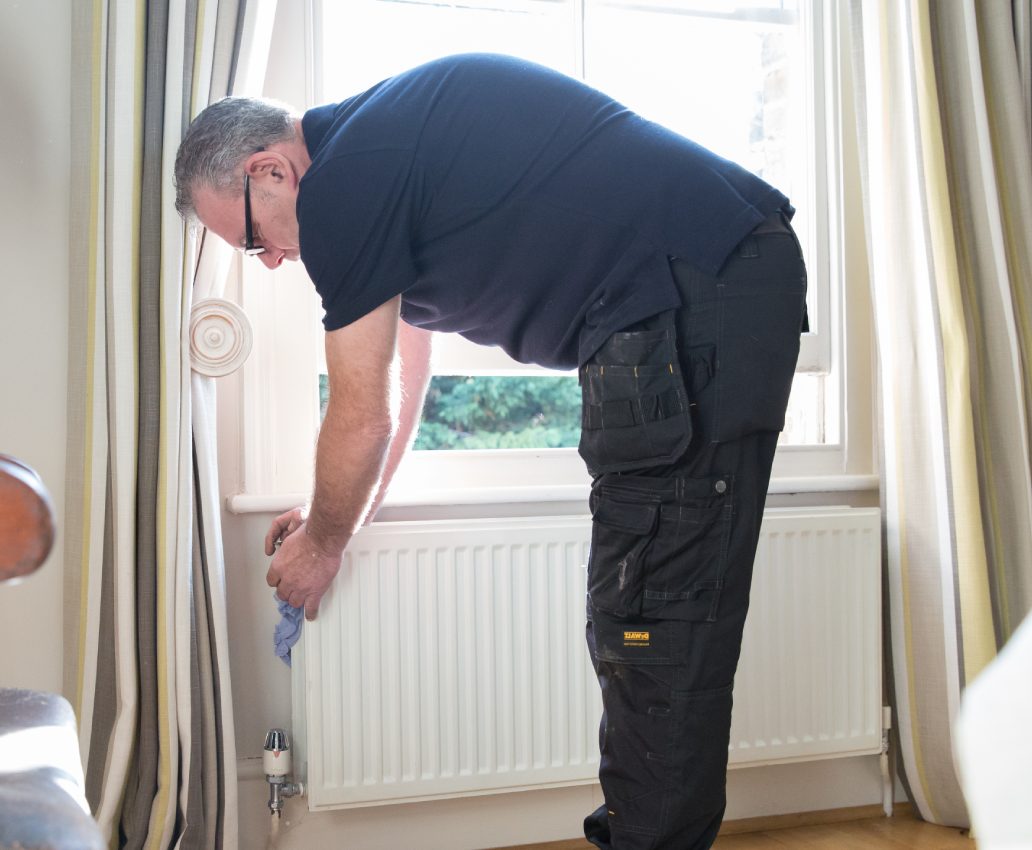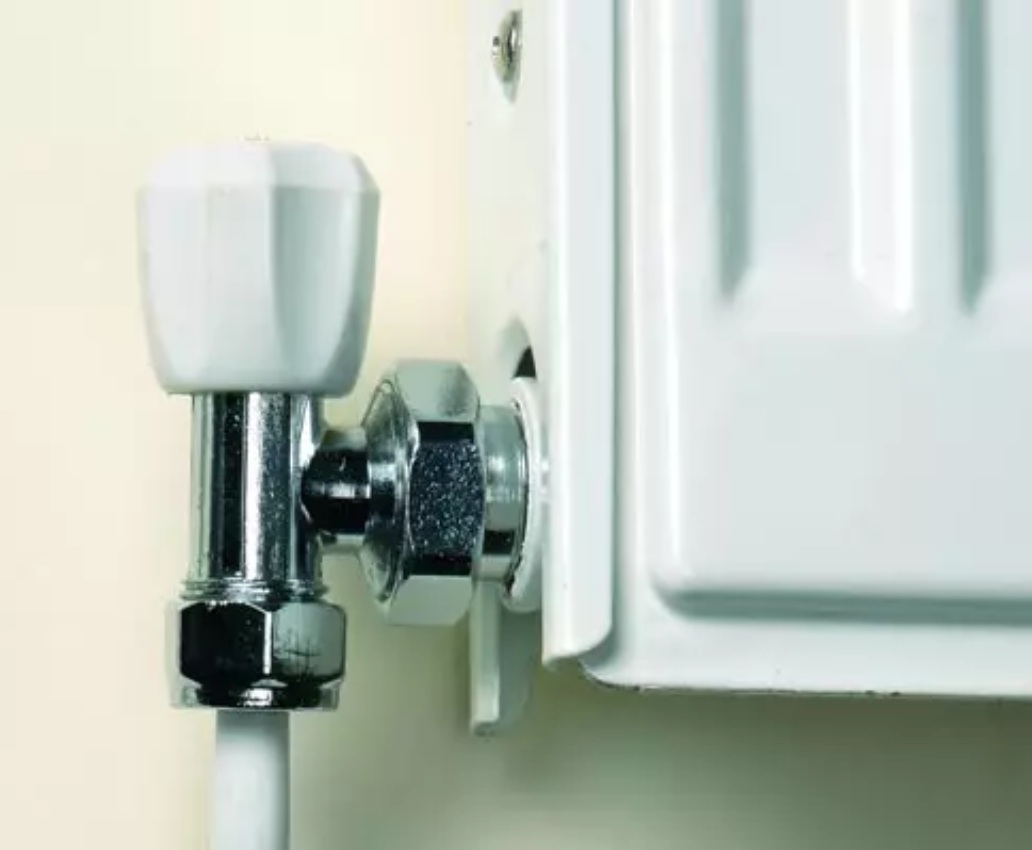 What does your emergency radiator repair service involve?
Are you experiencing radiator issues such as weird noises, leaks or cold spots? Worry not. My Plumber's engineers are on hand the same day (subject to availability) for all types of domestic and commercial radiator repair works. On the visit, the professionals will follow straightforward steps:
Inspection and fault finding - The technician will do an in-depth check of your appliance to identify the fault;
Radiator remedy - Expect your unit to be fixed the same day. If any part needs to be replaced, a second visit will be arranged to completely fix the radiator.
Advice on whether the radiator repair is economically justified - The engineer will suggest to you radiator replacement options if your appliance is not efficient anymore.
Running tests - Final test will be done to ensure that there aren't any gas leaking radiator and the system operates smoothly.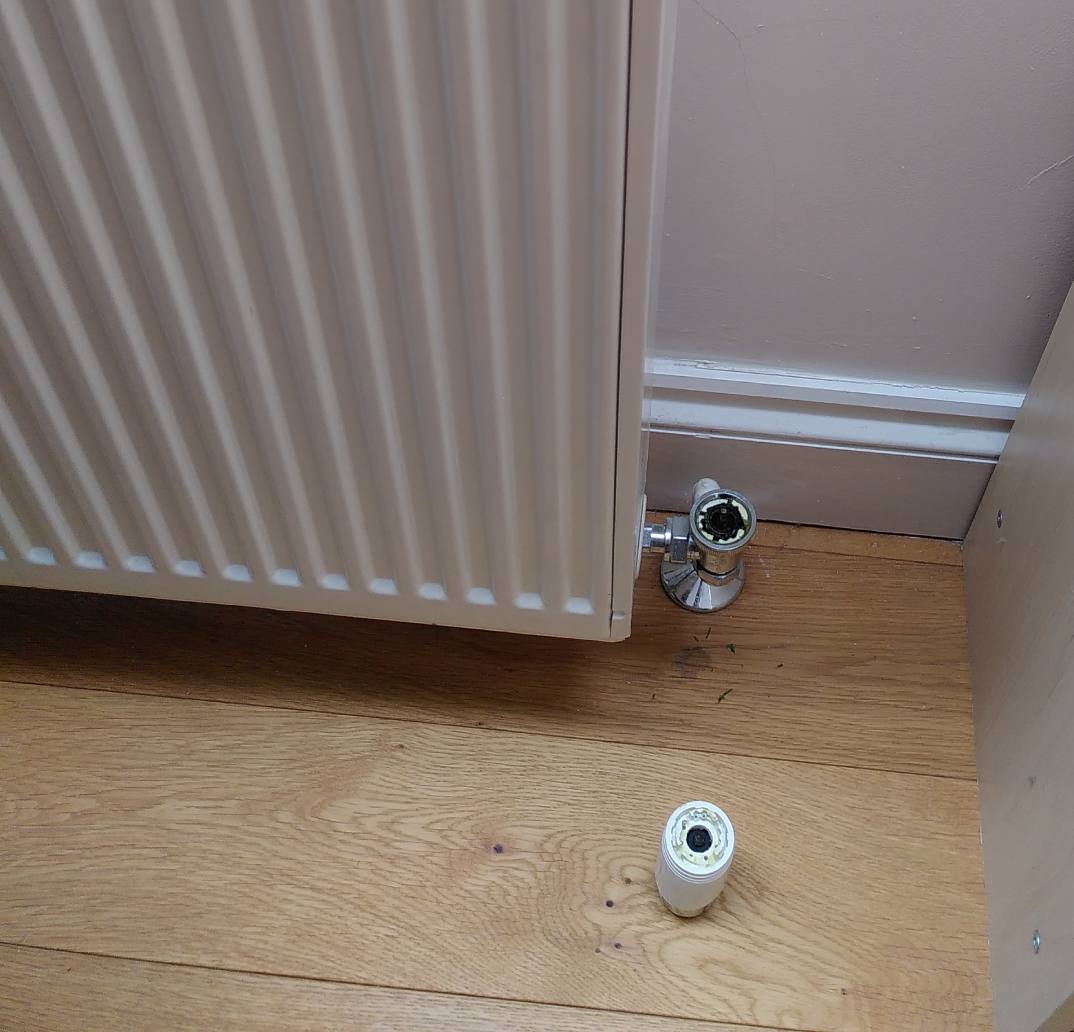 A shortlist of the most common radiator repairs
Repair leaking radiators
Your certified repairman will investigate the source of the leak first and foremost. If a radiator has a hole in it, it simply isn't worth fixing. Then, the radiator must be replaced. But if the leaky unit roots in the malfunctioning pipes, joints, or radiator valve, the radiator repair is straight-forward for our competent Gas Safe-registered engineers.
Radiator powerflushing
We advise you to book an expert power flush service regularly to remove sludge, rust build-up, sludge, and scale deposits from your central heating system. The service involves adding cleansing chemicals to increase the radiator heat and reduce pipe noise significantly.
Radiator bleeding
In case of noisy radiators or cold spots, the engineer can release the air trapped in the system with the help of a bleed key. With a professional service, you get real savings on your heating bills and ensure that no dirty water spills will stain your flooring, carpet or newly-decorated wall.
Balance radiators
Ask your technician to bleed your units and adjust the radiator valves to have all of your radiators heating at the same speed. With correctly balanced radiators, expect restored temperature balance and savings on your heating bills.
Common radiator repairs we can help you with
Radiators blocked with sludge, debris, and iron oxide deposits
If you experience radiator inefficiency due to central heating sludge, a certified radiator engineer will make an in-depth check, recognise and fix this issue, usually by a central heating powerflush service. However, if you leave the issue unattended, expect the situation to become even worse - the entire heating system may stops working at all, even if you have recently installed your new boiler.
Air trapped in the radiator
Another annoying issue is when your radiator is warm at the bottom, yet cold at the top. Also, your appliance could be cold long after the heating is on or you might hear loud hammering and banging noises coming out of your central heating pipes. All these are alarming signs for an air build-up that needs releasing. Radiator bleeding done by a Gas Safe plumber can help you fix the problem.
Pinholes and cracks in central heating radiators
If a radiator has a hole in it, then it must be replaced. The reasons behind this might be uninhibited oxygen in the system, causing rust. You may find that this is cheaper solution than you think and decide to change the thermostatic radiator valves at the same time.
TRV's is faulty, got stuck or has not seized
If a TRVs control or knob get stuck, it's possible to experience a radiator leak. Your local engineer will check to see if this is the problem, fine-tune your heating system, and make the most out of your heating appliance.
Noisy radiators
Humming, vibrating or bubbling noises coming from your radiator are mostly caused by air trapped in the radiator pipes. Consider calling out an experienced radiator expert to bleed your radiators and turn your radiator efficiency back.
Radiator relocating
For a new layout of furniture, you may find the location of existing radiators awkward. Or, sometimes, your existing radiator might be more needed and effective in another area. Worry not, My Plumber's experts can move and refit your existing unit to another convenient location, including pipe relocation.
Relocating a radiator
Do you need to remove your radiator to decorate your walls, change your old-fashioned wallpapers, or simply clean behind? In this situation, we would come to your property and remove the radiators, and then, return after the walls have been painted or cleaned to refit them. At this point, you may also decide to fit new modern Thermostatic Radiator Valves.
Uneven heating
One or some of your radiators are hotter than the others? For instance, if your radiators in the living room are less hot than those in the bedrooms, then your residential or commercial property might be experiencing uneven heating. Your best bet is to call the experts who will balance the radiators professionally so that they can work at their full efficiency.
One-off and annual radiator service for your peace of mind
The key to preventing the need for radiator repair or replacement is in the heating system regular maintenance. Whether you move to your new house or just want to assure you have working radiators during the cold months ahead, you can count on My Plumber and make a radiator maintenance appointment to protect your central heating from unexpected damages, prolong the system lifespan, and ensure long term cost-efficiency. And let us remind you that faulty central heating appliances hide the potential risk of carbon monoxide poisoning.
At My Plumber, the radiator inspection is usually combined with the regular or annual boiler check-up within the Boiler Service Plus offer. Apart from the regular boiler check, your radiator servicing includes:
Careful inspection if the radiators heat up properly;
Assessing the danger of gas leaking radiators;
Visual check of all radiator valves, pipes, and couplings for possible pinholes and rust;
Radiator draining and pressure testing;
The expert will add anti-corrosion fluid to the system, if necessary.
At the end of the servicing, you'll get My Plumber radiator key.
How much does it cost to replace or fix a radiator?
Basically, a lot of factors can determine the price of your radiator service - the type of work, task duration, time of the day, whether you need to replace parts, and where you live in the M25 area.
At My Plumber, 80% of customers pay less than £150 for replacing one radiator and the average service duration is 60 minutes. For smaller radiator replacement jobs, the fee starts from £110 and can reach £467 for 4 hours-work on fitting 4 radiators. For common leaky radiator tasks, 85% of our customers pay £125 or less.
| Appointments | 8am - 6pm | Before/After Working Hours |
| --- | --- | --- |
| First Half Hour | £62 | £73 |
| Subsequent Half Hours | £54 | £66 |
| Day Rates | £586 | - |

| Appointments | 8am - 6pm |
| --- | --- |
| First Half Hour | £73 |
| Subsequent Half Hours | £66 |

| Appointments | Before/After Working Hours |
| --- | --- |
| First Half Hour | £79 |
| Subsequent Half Hours | £72 |
The minimum appointment time you can book is 1 hour, then we charge on an half hour basis. You always pay only for the actual time spent. If there is any shopping time and extra materials needed they come on top of the initial quote.
Save on My Plumber radiator repair and installation solutions
My Plumber is a Fantastic Services brand - the one-stop-shop for all home maintenance services in the UK. This means that you can take advantage of our unique loyalty membership programme, also known as the Fantastic Club, and receive £300 credits worth only £89/year.
Your loyalty status lets you unlock benefits for a whole year. Whether it is a radiator installation service, gas boiler repair, landlord gas safety certificate, cleaning or gardening service, you get a seamless experience, preferential member rates, priority booking options, tree planting for every member, and many more every time you book with us.
So why wait? Get £30 OFF for 10 home maintenance services of your choice!
Get a free online quote and book in seconds
Secured payment powered bystripe

Why choose My Plumber for your radiator installation and repair needs?
Certified radiator fitters you can count on
With My Plumber, your local radiator repair or fitting service will be carried out by a highly-experienced professional, who's been extensively trained, insured, and is a member of the Chartered Institute of Plumbing and Heating Engineers (CIPHE). So, rest assured that the works observe all safety requirements and the latest British Standards.
Complete radiator services in London
Whether you need to remedy a radiator problem or replace a faulty Paladin, Reina, Apollo, Delonghi or other unit, My Plumber will help you connect with fully-equipped experts familiar with all the different heating units' types and sizes (slim, traditional, flat, vertical, horizontal, single or double panel, designer or contemporary radiators). Plus, they can offer sound advice on choosing and positioning one for your home, office, or tenanted property.
Quality radiator repair & replacement work guaranteed
Be confident that you'll get a professional, hassle-free service that suits your needs backed with 12 months. As you'd expect, your technicians carry full Public Liability insurance and are safety-compliant, too.
Where to find your go-to local radiator repair and installation team?
Need professional radiator repair near you to help you out during the after-hours or at the weekend? No problem. With full London coverage within the M25 zone, your radiator needs can be met the same or next day (including bank holidays) in no time at all.

Awards and nominations
Over the past decade the My Plumber's amazing team of skilled plumbers, gas engineers, electricians, and handymen have been recognised by winning awards and being finalists for multiple awards across London.
Frequently Asked Questions
I have a cold radiator, can you help?
Yes, we can. Cold radiators (or partially cold) often find themselves in this condition because of the sludge trapped inside them. The sludge will often sink to the bottom of the radiator, and that is why you'll often find radiators feel cold toward the bottom and hot at the top. When the sludge is removed by power flushing, the water is then able to circulate around the whole radiator and not just the top part.
Do you fit Thermostatic Radiator Valves?
Yes, we can. Some people like to have TRVs fitted as these can adjust the temperature of the radiator to suit your needs. This will give you complete control over your radiator so that it emits heat at your preferred comfort level.
I've just replaced my old boiler. Do I need a new radiator too?
Your old radiators might not be able to handle the pressure output from a new, high-performance boiler. So whenever you are on the verge of boiler or radiator change, your best bet is to consult with a heating expert. He will give you professional recommendations on the radiator size and type that will best serve your central heating needs.
Who should I call to fix my radiator?
If your radiator is not working or some of the units are not heating up, then your best action is to call a qualified plumber or Gas Safe-registered heating engineer. There are some jobs that you can do yourself, however, your safest option is to have an engineer with special qualification to inspect your gas-fired appliance and investigate the problem.
My radiator is leaking. How to turn it off?
If you notice a puddle of drops below your radiator, your first step is to turn the thermostatic valve (if you have one) to "off" position or "0". Then, you have to find the other valve on the right side of your appliance and turn it clockwise until it stops tuning anymore. Act quickly and call your expert plumber to get your radiator fixed properly once and for all.
How long does it take to repair a radiator leak?
Repairing a leaking radiator takes approximately 1 hour. You can enter your postcode and check the radiator repair hourly rates and availability in your area.
I'm in front of a kitchen renovation project. Can I remove a radiator and still use the central heating?
Yes, no problem. You can safely run your central heating with a removed radiator provided that the two valves are turned off and properly sealed. To avoid pesky leaks, get your radiator serviced by a professional heating engineer.
How often should I replace radiators?
Central heating radiators can last a surprisingly long time, but they can also become ineffective or break down unexpectedly. You should expect to replace a unit every 10-15 years, though, proper annual radiator maintenance can prolong their useful life.
How long does bleeding a radiator take?
The general span of this service varies between 20-30 minutes per radiator.
Book efficient radiator repair and installation in London!