Looking for a drainage expert?
Our Drainage team are available 24 hours a day to deal with any domestic or commercial drainage emergency
Are you looking for emergency drain services? Our Drainage team are available 24 hours a day to deal with any domestic or commercial drainage emergency.
Our London based drainage specialists are well equipped to resolve your drainage problems in a prompt and efficient manner. We are set up with all the latest jetting equipment to deal with your drainage problem safely and efficiently. We offer you advice on how to keep your drains clear of blockages. Sometimes, it might be a lingering drainage smell that is bothering you or more commonly, you have a blocked toilet or shower. The drainage specialists can deal with challenging Saniflo repairs and obstructions, as well. We understand all these drainage problems and we will be discreet and fast at clearing the drainage problem for you.
Here at My Plumber, we believe in not only providing a professional drainage service in London but also excellent customer service. That's why we are independently recommended, vetted, and monitored by Trustpilot where customers have rated our service an excellent 4 out of 5 stars. You can read all of our reviews by visiting our Trustpilot reviews page.
If you need drainage services in London, then just call us today on 020 3078 5920.
Our competitive drainage hourly rates
| Appointments | 8am - 6pm | 6pm - 10pm |
| --- | --- | --- |
| First Hour | £116 | £128 |
| Subsequent Half Hours | £54 | £60 |

| Appointments | 8am - 6pm |
| --- | --- |
| First Hour | £134 |
| Subsequent Half Hours | £63 |

| Appointments | 8am - 6pm |
| --- | --- |
| First Hour | £158 |
| Subsequent Half Hours | £75 |
The minimum appointment time you can book is 1 hour, then we charge on an half hour basis. You always pay only for the actual time spent. If there is any shopping time and extra materials needed they come on top of the initial quote.
Blocked Gutters and Replacement Guttering
As well as drainage issues, we can also clear out your blocked gutters or fit new guttering. We find that guttering can get blocked with debris and leaves which means that water overflows. This can cause long lasting damage to your property if not tackled quickly. Mostly, clients have their gutters cleared in the Autumn and then in the Spring. Maintaining your gutters should be part of the annual maintenance of your home or office. We often get people calling with internal damage simply because this task has not been completed.
Join the Fantastic Club to save time and money on your bookings!
My Plumber is part of the Fantastic Services brand - a property maintenance service company with 11 years of experience in the sector. This means that you can now take advantage of the various attractive benefits that nearly 70,000 customers enjoy on a regular basis through the company's popular membership programme.

By joining the Fantastic Club, you can not only make some significant savings on your plumbing and heating services with us but also book over 100 professional property maintenance services at promotional rates.
Get a free online quote and book in seconds
Secured payment powered bystripe

Complete London coverage
We've got locally based teams of certified gas-safe registered engineers, qualified plumbers and drainage specialists across London, who are ready to assist you fast and with your complete satisfaction in mind. They strive to arrive within 60 minutes to help you out, regardless of whether you're a homeowner, tenant, landlord or business proprietor located in the capital city.


Start your
own

plumbing business in the UK with us
Are you a certified plumbing expert or handyman tradesman? Then, why not explore the opportunity of becoming your own boss minus the risk of operating a business independently?
Join our family of 2000+ franchise partners in the UK and get instantly a full job schedule and access to our large client base! We'll support you every step of the way by sharing our 10+ years of experience and proven profitable franchise business model.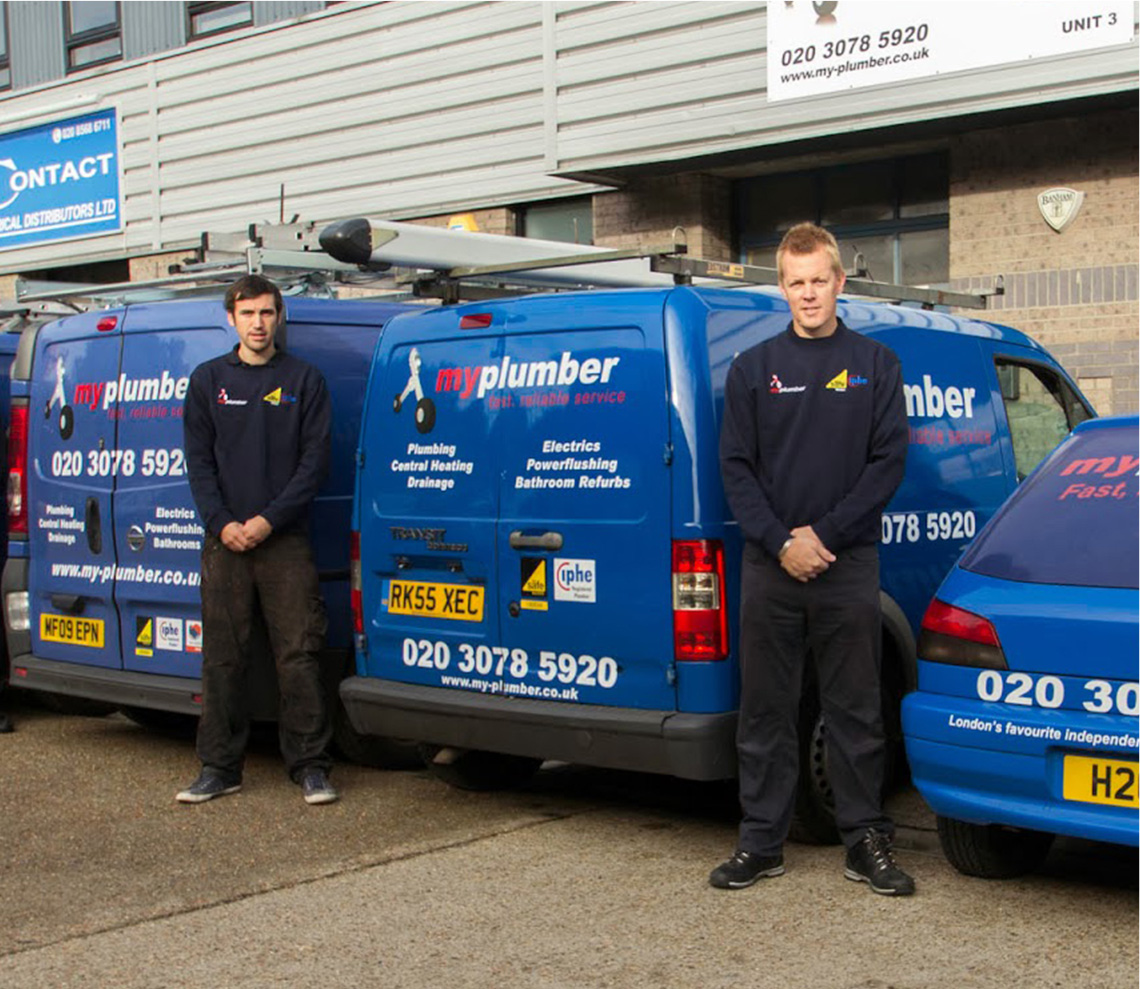 Awards and nominations
Over the past decade the My Plumber's amazing team of skilled plumbers, gas engineers, electricians, and handymen have been recognised by winning awards and being finalists for multiple awards across London.
Get a free quote for drainage services in London