Boiler repairs, done by Gas Safe engineers in London
Gas safe registered local engineers
Repair all brands and types of boilers
A 1-year guarantee on workmanship and parts
94% of boiler repairs fixed in one visit
We can fix any boiler type, model and brand, whenever possible, and replace your failing unit if needs be!
Your boiler repair service in 3 steps
1

Schedule your appointment easily online

Schedule a visit from a local Gas Safe Registered engineer for a day that suits you best. He'll identify the problem and consult you on your options.

2

Your boiler gets fixed

In most cases, your water heating unit will be fixed there and then. If a replacement part is needed, the engineer will arrange a second visit to complete the job after the ordered component has arrived.

3

Enjoy your 12-months guarantee

The workmanship and parts used to fix your boiler come with a 1-year guarantee, which means that you can have that extra peace of mind that if anything goes wrong, you'll be comprehensively covered.

Common boiler issues we can fix for you
Low water pressure
A boiler in a good working order should have its pressure set at 1.5 bar (check the built-in gauge). If it falls under 1.0 bar, your appliance is suffering from a faulty part, such as the pressure relief valve, the expansion vessel, or there's a broken seal. In addition, the culprit behind a boiler losing pressure could be a leak anywhere in your heating system.
You boiler leaks
There could be various reasons behind a boiler leak like a perished seal of the pressure valve or the pump, corrosion on the pipes, or such that are related to poor installation. Hence, it's always important to have a qualified boiler installer, who can fit and test your water heating unit.
Radiators are not heating properly
The radiators may fail to heat up as it should, due to a buildup of deposits - a problem that can be resolved with a good power flushing of the system. Trapped air in the radiators or a faulty radiator valve can also cause a heating issue with your radiator, which should be also handled by a professional radiator repair expert.
There's no heating and hot water
This can be caused commonly by the thermostat not being turned up high enough. Other reasons include a leak in your heating system, valve issue, an airlock in the system, no flame, heat exchanger problem, and more.
There's hot water but no heating
There's hot water but no heating - If you have hot water, but the heating is not working, then there could be a problem with the diaphragm, or a fault with the motorised or diverter valve. Trapped air in the system can also cause issues.
The pilot light is going out
A failing thermocouple or gas valve can both cause issues with the pilot light. A broken seal can also lead to the pilot light going out. Last but not least, your pilot light might simply need a good clean.
You can hear banging or kettling noises
A healthy boiler makes noise, but if you notice whistling, popping, rumbling and banging noises, this may indicate that your unit has some faults. Limescale, debris and sludge can accumulate in your boiler and heating system over time (especially if you live in a hard-water area in London). Trapped air can also make your appliance produce some strange noises. A limescale reducer, such as a water softener install, to your system, as well as a power flush, are common boiler kettling fixes to the problem.
Thermostat issues
Replace your old thermostat if you notice that it fails to work as it should, like it turns off your unit in the wrong time of the day and it shows inaccurate readings. After all every gadget or device has its lifespan, right?
A frozen condensate pipe
In low temperatures, condensing boilers can experience issues, such as the condensate pipe becoming frozen and clogged. This will lead to a malfunctioning boiler, of course.
Your boiler keeps switching off
Another annoying issue with your gas-fired appliance is when it keeps switching off. The causes? It could be a faulty pump, not circulating the water as it should, air in the system, low water pressure, a blocked condensate pipe, a faulty thermostat or valve, as well as debris buildup.
How can My Plumber's boiler engineers in London help with your heating repairs?
The professional will follow a few straightforward steps, in order to provide you with the excellent service you deserve.
Inspection and diagnostics - boiler specialist will check your appliance to identify the fault;
Complete the repair/replace the faulty part - your boiler will be fixed on the same day if possible or another appointment will be arranged;
Advise you on whether to replace the boiler - if your appliance can't be fixed, the technician will suggest to you some boiler replacement options;
Maintenance tips - you can count on the professional's expert boiler maintenance advice, as well;
Testing your appliance - at the end of the service, the repairman will go the extra mile and test if the system is operating properly and its peak performance.
If the expert needs to order additional parts for you, he'll do so and schedule another visit to finish the job. Alternatively, you can source them yourself, of course, before he visits you again.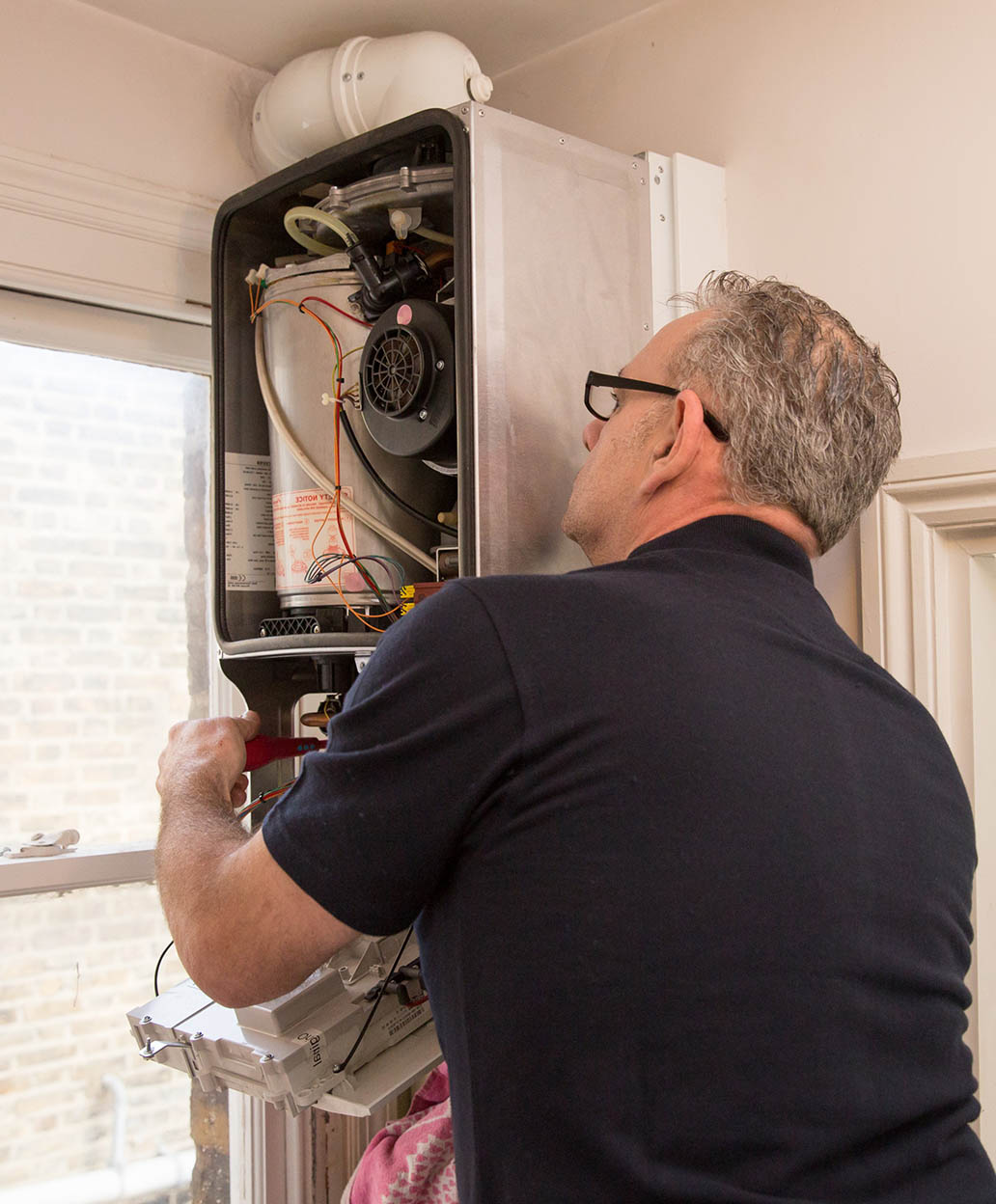 How much does a boiler repair cost?
My Plumber provides hourly-based boiler boiler breakdown repairs, which include a careful inspection of the heating unit, expert diagnostics, replacement of any faulty parts and finally, testing of the repaired appliance so that you can be assured that everything works as it should.
How much a gas heating engineer will charge you depends on a lot of factors, such as project duration, your location, the time of day and whether it is weekend or weekday. Because of this, you'll find that the prices range for combi, regular and system boiler repairs in London wildly vary: £110 - £634. Nearly 80% of our customers book combi boiler repairs with average and most common costs for fault finding and fixing: £129. Check the below price table for further information on our gas engineers hourly rates.
*Other price information:
| Appointments | 8am - 6pm | Before/After Working Hours |
| --- | --- | --- |
| First Half Hour | £62 | £73 |
| Subsequent Half Hours | £54 | £66 |
| Day Rates | £586 | - |

| Appointments | 8am - 6pm |
| --- | --- |
| First Half Hour | £73 |
| Subsequent Half Hours | £66 |

| Appointments | Before/After Working Hours |
| --- | --- |
| First Half Hour | £79 |
| Subsequent Half Hours | £72 |
The minimum appointment time you can book is 1 hour, then we charge on an half hour basis. You always pay only for the actual time spent. If there is any shopping time and extra materials needed they come on top of the initial quote. To give you an accurate estimate for your boiler services, you need to use our online booking form.
Save £30 OFF your boiler fix in London
When you book a service with us, you can get £300 in credits for 1 year by joining the membership programme, called the Fantastic Club. You see, My Plumber has become part of Fantastic Services - a large and well-known property maintenance service provider in the UK, which has created the club for its many loyal customers.
If you subscribe, you'll get £30 OFF for 10 different services within 1 year and enjoy various deals and other special perks. Choose from 100+ cleaning and maintenance services and book your service with priority.

Get a free online quote and book in seconds
Secured payment powered bystripe

Boiler repair or replacement - what do you need?
Well, this can be a tricky question but we'll help you get a clearer picture by focusing on a few factors that can be weighed out before the right decision is made.
Things to consider when hiring a boiler repair expert in London
Boiler warranty
If your appliance is in warranty, it makes sense to get any issues with it looked at and fixed by a certified technician, as the boiler is practically quite new. In some cases, however, your water heating appliance can be rather old and problematic, but still in warranty (Bosch and Vaillant boilers come with up to 12-years guarantee). So, depending on the fault it has, a gas engineer can recommend the right course of action.
Pressure problems with your boiler
Not everyone's got the time, knowledge and experience to fix water pressure issues with their boiler. For instance, you can only try to follow our expert advice on how to repair a boiler that's losing pressure, but there's never a guarantee that you'll succeed. In that case, you can resort to our boiler repair expertise, as pressure problems rarely call for a replacement.
Minor repairs
A qualified plumbing or certified gas technician can provide you with cost-effective repair solutions when you've encountered small issues with your heater. They can be fixed, so there's no need for you to consider replacing your boiler, even if it's been serving you for some years now.
Issues with your heating system (radiators)
A certified technician can power flush your radiators if bleeding them, first, has not resolved your heating problem. Often, various hard particles accumulate in the system, which prevent your radiators from heating up properly.
Reasons behind the need of a boiler replacement
You have an old cast-iron boiler that leaks
Cracks in old cast-iron boilers are simply not worth fixing! Consider getting a new modern boiler and dispose of your leaky water heating unit that will just keep causing you problems.
Corrosion causes frequently the need for repairs
The age of your boiler, combined with skipped annual inspections and servicing, can lead to corrosion buildup in the unit. Often, rust appears on the outside of its body walls, too. Naturally, it makes sense to replace your boiler in such a case, instead of spending your hard-earned cash on expensive repairs.
Combustion issues
If a Gas Safe Registered engineer determines that your boiler has poor combustion, he may advise you that it's not worth the risk dealing with it, but you better replace your unit with a new one. You see, the problem can lead to fire risks or leaking lethal carbon monoxide gas. Watch out for signs, such as the pilot light keeps blowing out or there's some soot on your boiler, and if present, call an expert straight away.
You have an old and rather noisy boiler
Strange noises coming from your boiler could mean that the pump or fan have become faulty. Just consider what's more cost-effective - to replace those or just get a new, more modern and efficient water heating appliance!
Dangerous flue
Replace your old boiler and the concealed and potentially dangerous flue with a modern appliance, which comes with a flue that has an inspection hatch, and thus, meets all gas safety standards. You'll be most likely advised to do so during your annual boiler servicing.
Your boiler is well out of warranty
Old boilers, which are no longer in warranty, naturally break down more often. Add the lack of original parts, as well as the frequency of issues you have with the unit, and you're faced with constant expenditures on repairs. Well, it's time for a new boiler, isn't it?
Depending on the type of fault your boiler has, the repair work may require specific expertise. No hot water or no heating issues involve working with gas, so only Gas engineers are allowed by law to perform any job.
A heating engineer most often works only on heating systems, making him a specialist in this field, rather than a general plumbing expert.
If you have problems with blocked pipes and leaks or you need an appliance that uses water to be installed, calling a plumber is the right decision. Many plumbers do possess several plumbing qualifications, and they could be Gas Safe registered too, but this qualification is not required when the problems are not gas related.
My Plumber works with a team of well-trained and Gas Safe certified plumbers ready to solve any boiler and plumbing issue you may have.
Why choose My Plumber for your reliable gas boiler repair company in London?
Emergency repairs - We work with experienced engineers, who will do everything possible to fix your boiler on the same day. They are well-familiar with all boiler panel error codes and can repair a range of issues, such as your boiler is not heating up, cannot be turned off, the pressure is low, the radiators fail to work, etc. My Plumber provides emergency heating and boiler services, so if you need a specialist as a matter of urgency, don't hesitate to call.
Easy online booking - Book online your London's boiler repair service for a day that suits you the most. My Plumber works 7 days a week, regardless, which means that you can count on our assistance even on a public holiday.
Guarantees - We offer a 12-month guarantee with every boiler repair service, which covers the workmanship and the replacement parts. So, rest assured that you'll receive a stellar service every time with us!
Repairs of all brands - My Plumber's specialists are Gas Safe Registered engineers, who have a thorough knowledge and expertise. They are members of the Chartered Institute of Plumbing and Heating Engineers (CIPHE), and can address problems with any type of boiler, regardless of its model, brand and who installed it. Plus, your local boiler repair company is Worcester and Vaillant-accredited, meaning that it truly understands the nature of your appliance and your specific requirements.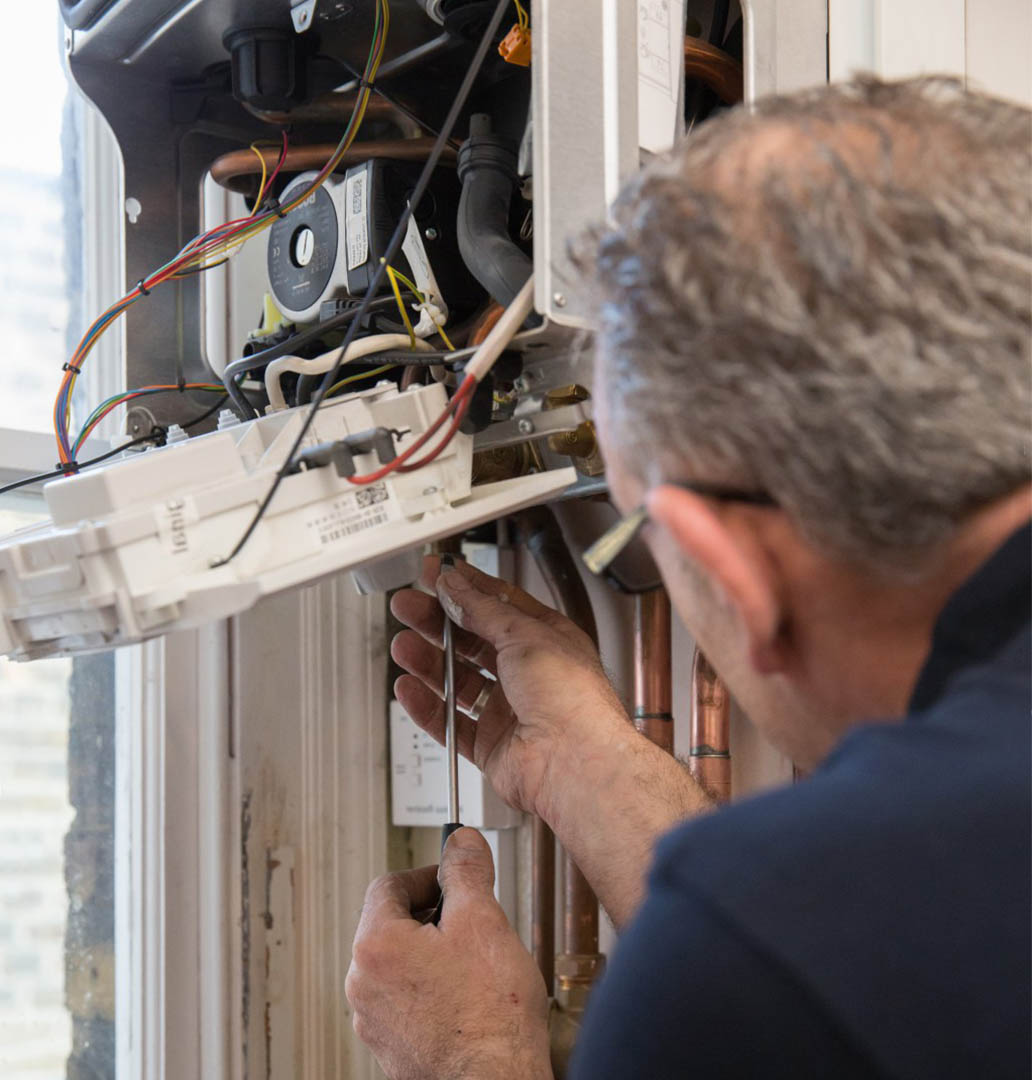 Frequently asked questions
Will my boiler and heating problem get sorted out in one visit?
The engineer will do their best to repair your boiler issues there and then. However, if an additional part needs to be ordered, he will do it for you and arrange a second appointment to complete the the heating service.
What type of boilers can you fix?
At My Plumber, our expert boiler engineers will have your combi boiler, system boiler or regular boiler fixed safely and efficiently, keeping you and your family warm and safe.
What if something goes not as planned, or the engineer simply can't remedy my boiler issue?
Well, in the rare case of the professional not being able to deal with your heating or boiler problem, he will notify you straight away, explain to you the reasons behind this, as well as offer you some professional advice on your options. In other words, you may need to get a new boiler instead.
What should I do if I suspect a gas leak from my boiler?
If you smell gas or suspect a leak from any of your gas appliances, you should call 0800 111 999 straight away. It's a free call that will connect you to the Gas Emergency Services. Also, open the windows and leave the property. Wait nearby for the experts to arrive.
How quickly does a landlord have to fix a boiler?
Landlords are responsible for providing adequate heating and hot water for tenanted properties. If a boiler's got broken in a rented property, Section 11 of the Landlord & Tenant Act 1985 obliges the landlord to carry out repairs in a "reasonable time". If a rental property has gas installations, but there's no heating or hot water, the landlord should arrange a same day boiler repair and fix the issue in 24 hours.
Complete London coverage
My Plumber relies on qualified local teams of Gas Safe Registered boiler technicians, who serve domestic and business customers across London. Therefore, regardless of whether you own several rental properties or a B&B, or you are a private homeowner, the experienced specialist will repair your boiler expertly and up to the highest gas safety standard.

Awards and nominations
Over the past decade the My Plumber's amazing team of skilled plumbers, gas engineers, electricians, and handymen have been recognised by winning awards and being finalists for multiple awards across London.
Book a reliable gas boiler repair in London today!