Expert gas boiler service in London
Enjoy professional boiler servicing that gets your boiler working smarter, not harder!
Experienced Gas Safe registered engineers near you
Servicing any model, type and brand
Preventing gas leakage risks and fire hazards
Improving the efficiency of your appliance
How we tackle boiler servicing in the London area
1

Book your boiler service online

Fill in our online booking form in less than a minute. Choose a convenient day and time at which you want your local boiler inspector to arrive. Plus, you count on 24-hour, 365-day friendly customer service.

2

Welcome the engineer

The Gas Safe-registered expert will perform all the necessary tests and visual checks, as well as replace some minor parts if needed.

3

Enjoy the safety of your appliance

Now, you can relax that your water heating appliance will serve you as it should for another year.

What does your comprehensive boiler service include?
My Plumber offers two boiler servicing options, which cover various checks and testing tasks. These will ensure that your appliance functions safely and performs at its best capacity. The first one is the budget-friendly standard boiler service and the second one - boiler service plus.
Standard Boiler Service

Starting at £123

The heating engineer will inspect your appliance, its components and controls to make sure that they are functioning correctly.
The professional will also check for any leaks, rust spots and signs of corrosion.
The boiler seal will be thoroughly checked, too, and if it's not tight enough, then it will be replaced to prevent a dangerous gas leak in the future.
The ignition, as well as the heat exchanger, being the most important parts, will also be checked carefully.
The technician will also perform a flue analyser test to confirm that the burner pressure and combustion are all good.

Boiler Service Plus

Starting at £135

The Plus boiler service includes all the tasks of the Standard boiler service and the following additional checks:

The valves to the radiators will be visually checked for possible leaks.
All your radiators will be tested to see if they are heating up as they should.
You will also receive a My Plumber radiator key.
Why should you get your boiler serviced every year?
Servicing your boiler on a regular basis improves the performance of your appliance, and thus, its lifespan. But more importantly, investing in specialist boiler inspection and testing will ensure the safety of your family and property. The engineer will inspect the appliance, piping, valves, connections, etc. for any signs of rust, leaks or other types of faults. Here are some of the main reasons why you should get your heating serviced annually:
Safe use
A malfunctioning water heater can put people's lives at risk, be it because of the silent killer - carbon monoxide or due to the appliance catching fire. It's as simple as that. So, always get your water heating appliance serviced annually and in due time!
Warranty issues
Skipping your annual boiler service for whatever reason will result in your appliance's warranty becoming invalid. This means that if your boiler breaks down, the repairs will be at your expense.
Energy efficiency
A well-maintained and regularly serviced boiler performs more energy-efficiently, providing you with comfort in the cold weather and efficient heating, and all this, not at an unnecessarily higher cost.
Serving you for longer
Your boiler will perform better and for years to come if you ensure that it's serviced every year, that's for sure. Or in other words, the discovery of a minor problem or boiler breakdown during the servicing won't lead to a bigger one that can result in the need of boiler replacement altogether.
Landlords are legally required
A landlord must hire a Gas Safe Registered engineer to perform an annual gas safety check and boiler servicing, in order to obtain their gas safe certificate, without which, they would be breaching the law if continuing to rent out their property.
How much does a gas boiler service cost?
My Plumber provides two options - standard boiler service and boiler service plus, both performed by local Gas Safe Registered engineers. Check the below table or you can get an instant, free quote, direct from our online booking system. There are a lot of factors that affect the boiler service price. You see, sometimes, that's a one-off boiler service if you want to check your combi boiler condition when you're moving into a new home. Other times the wrenching fear of faults comes true, and the check-up comes with extra costs. At My Plumber, the prices start from the minimum charge of £116 and can go up to £586 (if any additional materials and repair works are included). For the thousands of annual boiler servicing tasks carried out by My Plumber, the customers pay £123 on average for a standard service and £135 for the extended Boiler Service Plus package.
Appointments
Prices
Prices
Boiler Service
£123
Boiler Service Plus
£135
Landlord Gas Cert.(up to 2 appliances)
£116
Landlord Gas Cert.(3 to 4 appliances)
£124
Boiler Service & Landlord Gas Certificate
£216
We want you to get the most from our services. So if there's anything confusing, our 24/7 friendly customer service team will be on hand. The gas boiler annual service prices are fixed and include labour only. If there is any shopping time and extra materials needed, they come on top of the initial quote.
Boiler service vs. boiler repair
Annual boiler check vs. boiler repair
Although boiler servicing may involve the execution of some minor repairs, there is a significant difference between the two services. You see, a boiler repair specialist will be called out to fix a suspected issue with your appliance, more often than not. A boiler servicing engineer, on the other hand, will perform a number of tests to ensure that your boiler is safe and works as it should. And if he discovers a minor problem, he may repair it there and then or advise you to invest in a boiler repair service.
In other words, an annual boiler inspection is designed to prevent the need of repair service. Also, a boiler repair service will not involve the performance of all the necessary tests but it's booked specifically for the removal of a said boiler breakdown problem.
To sum up, a boiler service technician will ensure that the risk of costly repairs is significantly reduced, so resorting to it annually is not only the safe thing to do but also a smart financial move.
Boiler inspection vs. gas safety checks
There is an important difference between boiler servicing and a gas safety check. An engineer can be hired to service a boiler that runs on solid fuel, for instance, not on gas, for a start. In addition, during the service, the specialist inspects the appliance in detail and if necessary, he may fix or replace a small but important part to improve the performance of the boiler and ensure its safety. Furthermore, boiler servicing applies obviously to the boiler only, its connections and your heating system components sometimes, whereas a gas safety check involves the inspection of all your appliances that run on gas and their connections. During such a check, the professional will not attempt to repair anything but will only recommend what should be done if needed.
Still, both types of services should never be skipped, when due, as carbon monoxide related deaths and injuries remain a serious problem every year in the UK.
Landlord gas safe certificates
Remember, if you are a landlord, renting out at least one property, it's compulsory for you by law to have a gas safe certificate issued every year after an annual gas safety check of all the gas appliances in the place. Landlord gas certificates, again, can be only given by gas safe registered engineers, of course.
And here, it's good to point out that even though private homeowners are not legally obliged to invest in a gas safety check, as they don't have tenants, it's still strongly recommended to do so for their own peace of mind and safety.
Why choose My Plumber for your reliable gas boiler service company in London?
Gas Safe-registered boiler service engineers near you
My Plumber works with experienced and certified boiler engineers, who are members of CIPHE (Chartered Institute of Plumbing and Heating Engineers). They will service your water heating appliance, according to the manufacturer's instructions and ensure that any small boiler problems are eliminated in due time. This will not only improve your boiler's efficiency and performance but will also prevent you from dealing with future costly repairs.
We service any type, model and brand of boilers
Regardless of what model you have or how old your boiler is, My Plumber's technicians will inspect the appliance, service it and test it as a final course of action to make sure that it works more efficiently and your home is nice and warm in the cold weather months. The professional will also recommend if anything needs to be replaced or looked at that doesn't come as part of the boiler servicing job. Last but not least, My Plumber's heating engineers are Vaillant and Worcester Bosch accredited installers, so they are officially authorised to look after your boiler and heating system. This may include system cleansing, powerflushing, installing MagnaClean filters, and other protective systems that are right for your central heating service needs.
Convenient online booking and flexible appointments
We strive to meet our clients' needs, even at short notice, as we know how stressful it could be to wait for your boiler to be given "the seal of approval", especially if you suspect some issues with it. However, we advise you not to leave everything at the last minute but contact us well in advance, in order to secure a timely boiler servicing appointment with us.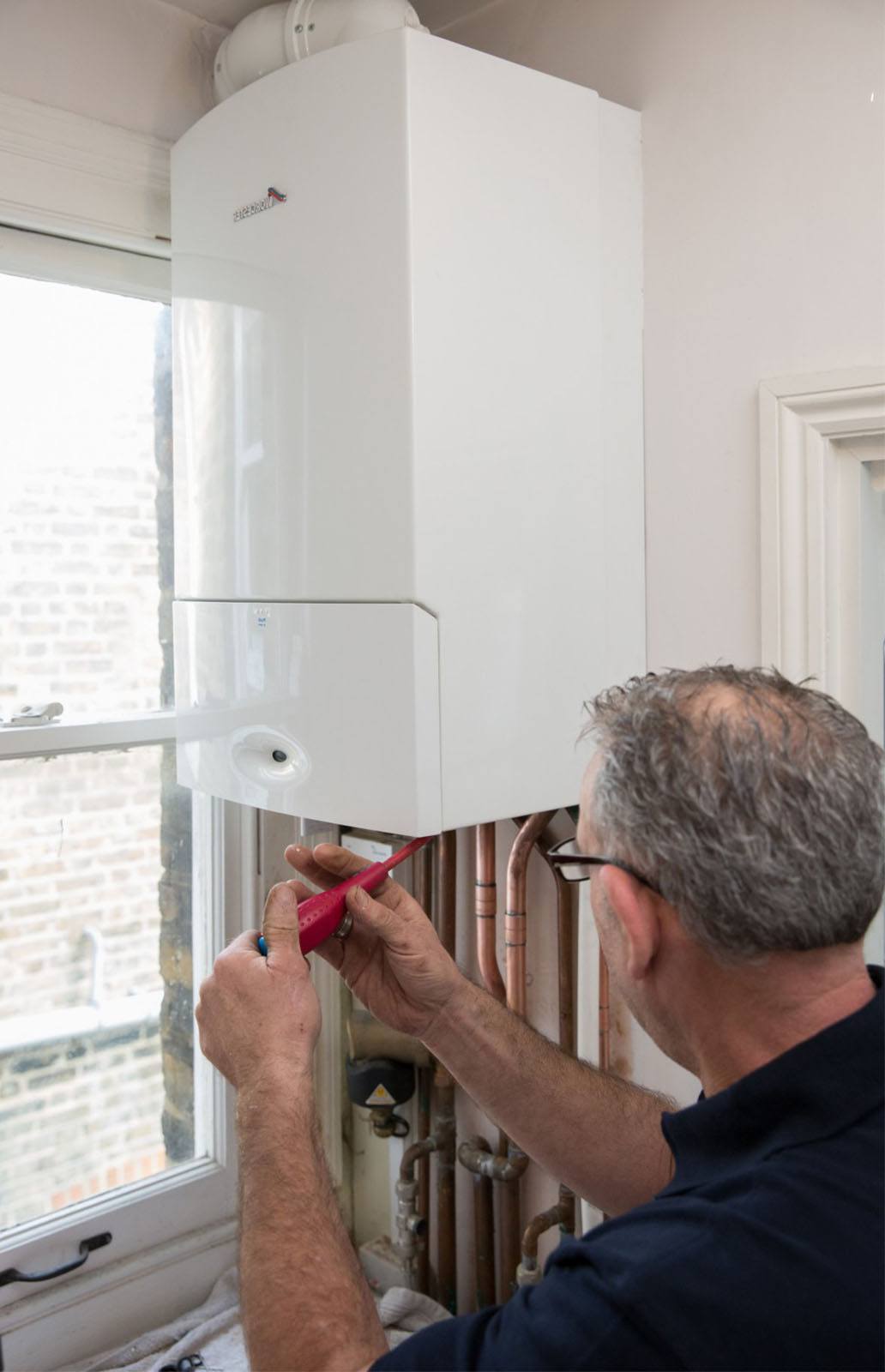 How can you save on your gas central heating servicing in London?
My Plumber has joined forces with one of the largest property maintenance service providers in the country - Fantastic Services, which has more than 100 services on its portfolio. The company has created a membership programme, called the Fantastic Club, which is growing in popularity every day. This means that you can also benefit from all the exclusive rates, special deals and various other attractive perks, the minute you book your plumbing service and join the club.

Get a free online quote and book in seconds
Secured payment powered bystripe

Enjoy local gas boiler servicing near you
We've got locally based teams of certified gas-safe registered heating engineers, qualified plumbers and drainage specialists across London, who are ready to assist you fast and with your complete satisfaction in mind. They strive to arrive within 60 minutes to help you out, regardless of whether you're a homeowner, tenant, landlord or business proprietor located in the capital city. My Plumber is a local boiler services company that covers most of Greater London and the surrounding areas. Whether you are a homeowner, landlord or a tenant, someone running a business or a property agent, we have a great deal of boiler service engineers near you. They have experience in inspecting and testing any type and brand of heating appliances, so you can rest assured that your central heating system is in safe hands. So why wait? Quickly get to grips with your annual property chores and book a fully equipped, local Gas Safe technician.

Frequently Asked Questions
Does it matter when my boiler should be serviced?
Yes, it does. You should always service your boiler annually, which means before the 12-months period ends since your last inspection. Failure to do so will result in the boiler's warranty becoming invalid. On another note, the summer months are the best time to service your appliance for the first time, as this will put your mind at rest that you're all prepared for the coming heating season.
Can I do something extra to ensure that my boiler is running safely?
Yes, you can install a carbon monoxide detector and a smoke alarm to boost your property and family's safety. In addition, there are a few regular boiler maintenance checks that you can do yourself, too, such as inspecting the temperature, water level and pressure of your boiler. Last but not least, keep your manual book handy, so when boiler service day comes, you can present it to the technician without delay. To go for installing a water softener in your London's property is a smart decision. Hard water compounds often build upon its main heating element cause it to warm water less efficiently over time.
What do I have to do if I suspect a leak from my appliance?
Firstly, turn off any electrical appliances and the lights. Then, open the windows and vacate your home at once. Call 0800 111 999, which is the hotline of the National Gas Emergency Service and wait nearby for the specialists' arrival.
What is your coverage?
My Plumber serves anyone, who is located in London, within the M25 zone. If unsure, just contact us online or via phone and we'll let you know if we can assist you.
How long does a boiler service take?
It depends on the type of boiler and the maintenance it requires, but usually, your qualified boiler engineer can carry out the service in 1 hour.
Do I need a boiler service certificate when I sell my property?
When you sell a property, there is no legal obligation for you to have the boiler inspected. Property with a proven record of gas heating checks, though, might be a make-or-break-deal factor. So, if the boiler is too old or if it's been a while since your boiler inspector has tested the heating components, it's a good idea to get your water heating appliance serviced. It's a win-win - you'll get the price you want and give your potential customers peace.
Awards and nominations
Over the past decade the My Plumber's amazing team of skilled plumbers, gas engineers, electricians, and handymen have been recognised by winning awards and being finalists for multiple awards across London.
Keep your heating bills low with a gas annual boiler service in London!