Our boiler installation or replacement service in 3 simple steps
1

Schedule your appointment easily online

Schedule your on-site consultation with a local Gas Safe Registered engineer for a day that suits you best. Get professional advice on what boiler will suit your property.

2

Receive a 'No Obligation' Quote

Once our team has finished your survey, within 24 hours you will receive a 'no obligation' fixed price quote for your new boiler.

3

Enjoy 12-year month guarantee with your new boiler installation

Upon completion of the job, the engineer will perform a range of tests to make sure that your new appliance works correctly.

How our boiler installation service goes?
If you're planning a boiler installation, then you're in the right place. In order to achieve the maximum benefit of a new boiler, an expert engineer will visit your home for a on-site consultation. The heating engineer will advise you on the most appropriate type and model for your home.We are an accredited installers and suppliers of Worcester Bosch and Valliant boilers, but we can also install any brand and type, including Combi, System, and Conventional types of boilers.
The gas engineers will arrange for the purchase, delivery, and fitting of the chosen boiler. With the service completion you will be given a Benchmark Log, signed by the technician. We can also dispose of your old boiler for you and offer up to 12 years manufacturer's guarantee that's based on your boiler type. Other types of services that we can provide include the installation of thermostats and timers, as well as additional radiators. For your complete peace of mind we offer 1-year labour guarantee.
What types of boilers do we install?
My Plumber works with qualified and experienced heating engineers in London, who can install all types of boilers, including combi, conventional or system . They will happily replace your existing boiler with a different type/model of a boiler if that's what you need. Check out what the boiler fitters can do for you:
Combi boiler installation
Combi boilers are a popular choice, as they are designed to provide you with hot water on demand, where no storage tank or a shower pump is needed for the system to work.This means that the installation of a combination boiler is perfect for small properties, where finding space for a water tank can be an issue.
Types of combi boilers we can fit for you:
Gas combi boilers - Gas-fueled combi boilers are budget-friendly and convenient, providing your home is connected to gas.
Oil combi boilers - Very energy-efficient, oil boilers are connected to an outdoor oil tank and are an ideal option for properties without gas supply.
LPG combi boiler - The abbreviation stands for Liquified Petroleum Gas, as you probably know. The boiler functions similarly to both an oil- and gas-fueled appliance, it's efficient and requires the installation of a fuel tank.
Electric combi boilers - again, this type of boiler is perfect for smaller properties, in terms of good energy efficiency, that is.
Conventional boiler installation
To install a conventional boiler, you'll need to have enough space for a water tank, which feeds your central heating system via a hot water cylinder that heats your radiators and provides you with hot water from the tap. This type of appliance is a great option for larger homes with, say, more than one bathroom and a number of rooms that need to be heated.
System boiler installation
A system boiler functions similarly to a regular boiler minus the need to have a separate cold water storage tank. All the important elements are placed in the same unit (a pump and expansion vessel). The hot water cylinder feeds your radiators and provides you with on-demand hot water for your daily needs. The installation process is far easier than that required for a regular boiler and you definitely don't need space in the loft for an extra water storage tank.
Gas boilers we supply and install in the London area
My Plumber is a proud and accredited supplier of Worcester Bosch and Vaillant boilers that we can install for you expertly and up to all safety standards, following closely the manufacturer's instructions.
Worcester Bosh boiler installation
Worcester Bosch boilers are famous for their performance, efficiency and safety. They are designed to convert 90% of the fuel into heat, and thus, ensuring that your monthly heating bills don't burn a hole in your pocket.
Why go for a new Worchester Bosh boiler installation:
The appliance is SEDBUK A-rated for its efficiency;
Ideal for any type of property that is connected to gas;
A reputable brand, Worcester Bosh has been going strong since 1962;
It can come with a guarantee of up to 12 years, subject to model;
Easy installation and sourcing of replacement parts.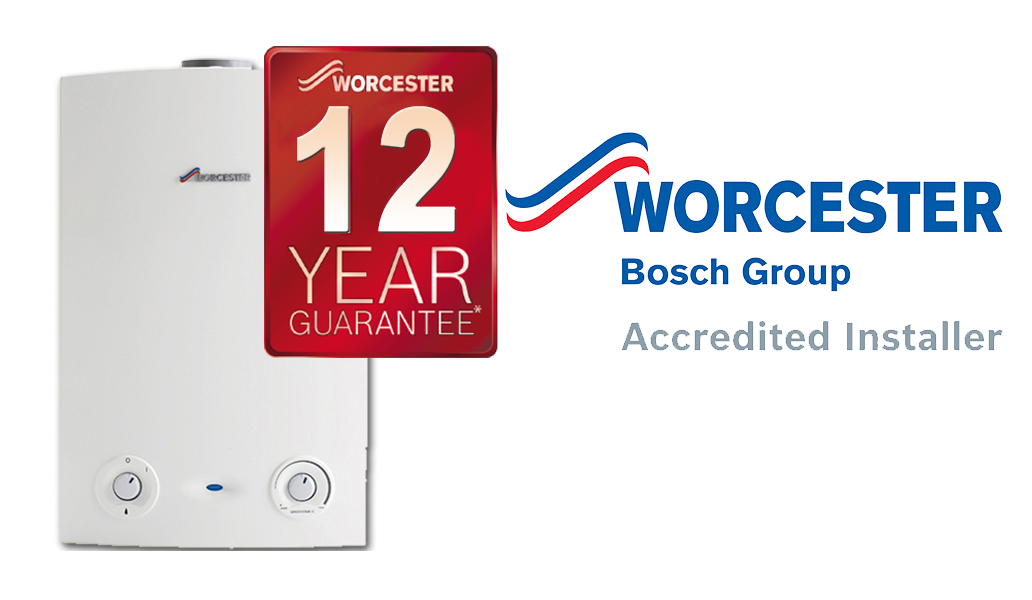 Vaillant Boilers installation
These SEDBUK A-Rated boilers are proven to be very energy-efficient, meaning you'll be quite happy to see your energy bills at the end of the month. They are designed to offer a noise-free experience and great control over your heating at home, as well as constant hot water from the tap, when required. The appliance doesn't take up too much space and can be fitted, say, in a cupboard.
Vaillant boilers are not noisy;
Designed stylishly and up to a very high-quality standard;
You can enjoy up to 30% of lower heating costs;
Extended guarantee when a Vaillant-accredited engineer has installed it;
Options for Vaillant vSMART control installation (to manage your appliance via your smartphone).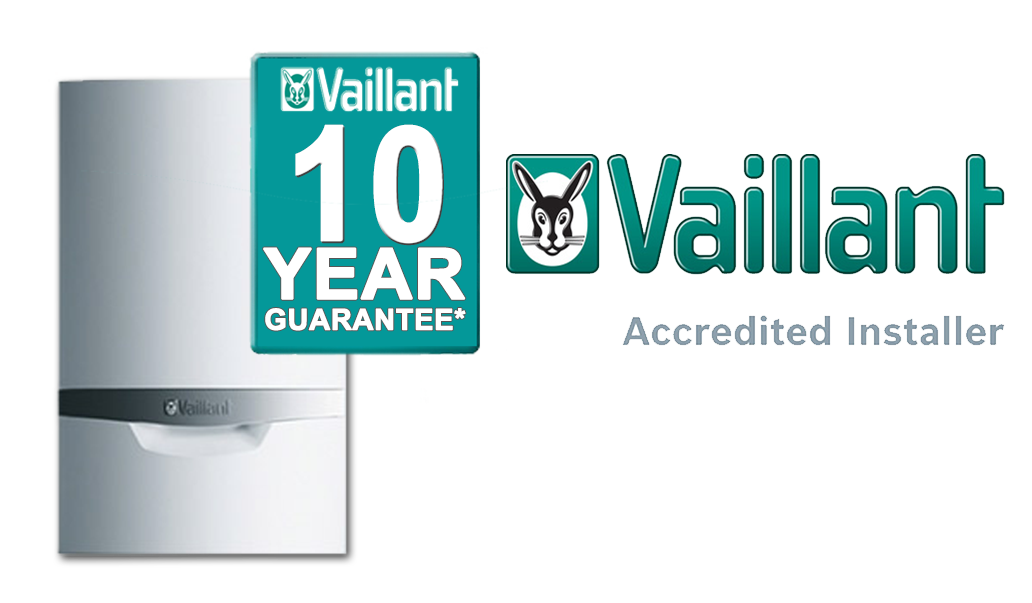 My Plumber's boiler installation rates
| Appointments | 8am - 6pm | Before/After Working Hours |
| --- | --- | --- |
| First Half Hour | £62 | £73 |
| Subsequent Half Hours | £54 | £66 |
| Day Rates | £586 | - |

| Appointments | 8am - 6pm |
| --- | --- |
| First Half Hour | £73 |
| Subsequent Half Hours | £66 |

| Appointments | Before/After Working Hours |
| --- | --- |
| First Half Hour | £79 |
| Subsequent Half Hours | £72 |
The minimum appointment time you can book is 1 hour, then we charge on an half hour basis. You always pay only for the actual time spent. If there is any shopping time and extra materials needed they come on top of the initial quote. To give you an accurate estimate for your boiler services, you need to schedule an on-site visit first.
When do you need a boiler replacement?
The age of your appliance is a definite telltale sign of whether you need to consider replacing your existing boiler. You see, once your water heating device has served you for more than 10 years, the likelihood of you encountering issues with it increases. Not to mention that older boilers are far less energy-efficient than modern models. And to note here, My Plumber can promise you that our range of appliances meets all high energy-efficiency ratings. They are reliable and cost-effective throughout their serving life.
Apart from your boiler's age, there are a few other reasons that can prompt you to replace your old boiler. Let's have a look at those in more detail below:
Your boiler often needs to be repaired - It makes no financial sense if you need to spend money on repairs on a regular basis, right? The cost-effective way to go is to replace your faulty appliance if it's prone to breakages, leaks or other issues.
Inconvenient location of your water heating device - Upgrade your boiler if you want to gain space or move its location. Say, you want to convert your loft. Surely, your conventional boiler will hinder your plans if the cold water tank is there in the way.
Your heating and hot water needs have changed - So, you got your dreamed extension this summer and the old boiler can't simply meet your new heating needs. Not to mention the installation of your second bathroom that needs an upgraded hot water system.
Inefficient boiler - It goes without saying that a new boiler model and type will have a better energy-efficiency rating. So, it makes sense to upgrade and replace your old and ineffective, cost- and energy-wise, appliance.
Increase the saleability/rentability of your property - Well, understandably, you can win over your competitors and attract potential buyers or tenants if you offer them a property with an upgraded and modern, energy-efficient heating and hot water system.
If your annual boiler service report reveals that it will not be budget-friendly to invest in further repairs, that's also a good time to reconsider the investment in a new boiler.
What do you get with My Plumber's expert boiler installation services in London?
Gas Safe Registered engineers
Your boiler installation service is performed by fully qualified Gas Safe engineers, with proven credentials for their experience and skills. They can serve both domestic and business clients with high-standard results. The specialists are trained to fit any type, model and brand of a boiler system safely and efficiently.
Comprehensive appliance guarantee
The technicians are equipped with high-quality tools to install gas and electric boilers alike. The work is done in accordance with all specifications and instructions, recommended by the respective manufacturer, in order for you to enjoy their warranty, which is often up to 10 years and more. As mentioned above, we are Worcester Bosch and Vaillant-accredited boiler suppliers and installation providers, so rest assured that your quality device will be fitted expertly, serving you for years to come. You can also benefit from 12-months guarantee on labour as we pride ourselves with the high level of expertise of your boiler fitters.
Frequently Asked Questions
Can you install a thermostat or a timer, as well?
Yes, just specify in advance your request and we'll make sure that the engineer comes prepared to install a thermostat/timer during the service.
What should I do to make sure that my boiler is running efficiently at all times?
Not skipping (delaying) your annual boiler inspection and servicing will, for sure, guarantee that you enjoy a safe, reliable and energy-efficient heating and hot water system.
Do I need new radiators when my boiler is replaced?
Not necessarily, providing your existing radiators have no issues. If, of course, you have outdated and faulty radiators, you better replace them as soon as possible. Bundling up the two jobs at the same time will save you time, money and hassle, as you won't have to face the process of draining your whole system if you decide to install new radiators at a later date.
What does a magnetic filter do and should I have one installed?
A magnetic filter prevents metal debris from going into the heat exchanger, as well as clogging up your system and causing repair issues at some point in the future. Of course, particles that do not have magnetic properties will remain unaffected, hence, flushing your system when necessary is strongly recommended.
Can I book a same-day service?
Subject to availability, we'll do our best to schedule a survey on the same day for you. You see, we do offer emergency services, however, boiler installation does not always fall into this category.
How long does it take to fit a new boiler?
There is no quick answer to this question, but based on the type of the work you can expect to have a like for like swipe done for 4-6 hours. If you need to change the position of the boiler it may take 1-2 days. If a new installation should be done to a place where previously had never been a boiler it may take 1–2 days. If you plan to change the type of your boiler, prepare to have this job done for 2-3 days. If it has to be a new type of boiler installed to a new place it may take 3-4 days. And lastly, if you change the fuel type of your boiler it may take 2-3 days.
Can a plumber fit my boiler?
Plumbers are skilled in a variety of plumbing tasks, but they aren't necessarily qualified to work on gas boilers. Some plumbers are Gas Safe registered, but this isn't always expected as standard. On the other hand, each plumber we work with is Gas Safe registered and completely qualified to install your new boiler according to the highest standards.
On average how much does it cost to have a new boiler fitted?
There are many factors that should be taken into account when calculating your quote but that's why we offer FREE on-site surveys so you can make the right decision for your new boiler.
Will I have central heating and hot water during the installation?
This will vary from job to job. As part of our in-depth survey, we will let you know if you will be without heating and hot water so you can make alternative plans. We always do our utmost to minimise disruption during the installation process. Hot water will be off for a least one day, depending on the type of installation. If you have an electric shower or immersion heater, they can minimise the time without hot water.
What about using my other gas and electrical appliances during the installation?
It is usually possible for you to use your other gas and electrical appliances as normal during an installation except for the final gas and electrical connections when there is a short period of interruption.
What sort of guarantee will come with my new boiler?
All new boilers installed by us come with a full manufacturer's parts and labour warranty. As a long-term accredited installer of Worcester and Vaillant boilers, many also come with a better warranty than is otherwise available. Please see your quotation for the warranty on your chosen boiler available at the moment of installation. Once the installation is complete we will register the boiler with Gas Safe and the manufacturer to ensure the validity of its warranty.
Is the powerflush part of the service?
If you're getting a new boiler installed, the building regulations recommend that a suitable cleanse is carried out prior to the installation. This can vary from a simple system flush with clean water to a powerflush on more contaminated systems. This helps to prevent your new system from being contaminated and inhibited by the sludge and debris that was present in your old one.
Join The Fantastic Club today to get £300 in credits within 1 year
My Plumber is part of the Fantastic Services brand - a property maintenance service company with 11 years of experience in the sector. This means that you can now take advantage of the various attractive benefits that nearly 70,000 customers enjoy on a regular basis through the company's popular membership programme.

By joining the Fantastic Club, you can not only make some significant savings on your plumbing and heating services with us but also book over 100 professional property maintenance services at promotional rates.
Get a free online quote and book in seconds
Secured payment powered bystripe

Find a reliable and skilled heating engineer near you
My Plumber operates locally and covers the entire Greater London area. So, regardless of whether you own a business, you are a landlord, homeowner or tenant, we can help you with your new boiler installation or replacement needs. We'll make sure to send the nearest Gas Safe Registered engineer to consult you on everything you need to know before proceeding with further and arranging your boiler installation service.

Awards and nominations
Over the past decade the My Plumber's amazing team of skilled plumbers, gas engineers, electricians, and handymen have been recognised by winning awards and being finalists for multiple awards across London.
Hire a certified and experienced boiler installer in London today!