Guttering Tips for Rainy Weather
The My Plumber drainage team often gets asked about leaking guttering or maintaining guttering.
At the moment in England, we seem to be experiencing more and more rain and we need our guttering to be working properly to protect our homes.
The last thing you want is rain running over the top of your London guttering and on to your walls and windows.  Water causes a huge damage to London roof tiles, interior decorating, brick work and the structure of your home.
Common problems with gutters
Blocked gutters in London
Blocked downpipes in London
Guttering leaks caused by damaged joints in London
Sagging guttering in London caused by overloading, faulty brackets or screws.
What are gutters
Gutters are the troughs which go around the edge of the roof. When working properly, they collect the rain water as it drains off the roof and dispose of the excess water through the downpipes and into the underground drainage system.  Gutters can be made from plastic or cast iron and come in either grey, white or black colouring.  Usually they are simple half piping which are positioned underneath the edges of the roof supported by brackets.
If your house is older, then it could be quite possible that the gutters are made of cast iron.  These are long wearing but can be heavy.  Therefore, you might want to check that the brackets are all in place periodically.  If they do become loose, the gutters can be damaged if not securely fastened.
PVC gutters are more popular now because they are lightweight and come in three colours: black, white and grey. They do not need painting and people find them easier to maintain as fittings are always available.
How to maintain your guttering
It is worth visually checking your gutters periodically just to check that there is no sagging or leaking. Sometimes you might notice water running over the top this could be because the gutter is full of leaves. Most people have their gutters cleared in the Autumn and then again in the Spring. If you feel confident, you can remove the leaves and clear the blockages yourself. If not, the My Plumber drainage team can assist you with all your guttering and drainage problems. Also, My Plumber can fit water butts so that you make the most of any rainwater captured for use on your garden or cleaning your car.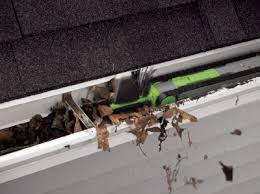 Call My Plumber on 020 3078 5920 if you need a hand with leaking guttering, blocked guttering, water butts or even getting guttering fitted.
Guttering Tips for Rainy Weather
Need help? Hire the London Property Service experts today by giving us a call on 020 3078 5920.