How to unblock a toilet
Sometimes, you might have a small toilet blockage that you can unblock yourself without having to call out the experts.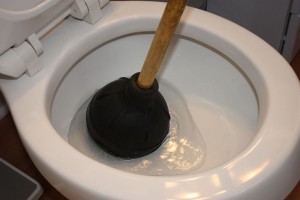 1)   Do not flush the toilet
If you flush the toilet, then the water is likely to run over the pan and onto the floor.  So the first thing to think about is actually removing whatever is blocking it.
2) Get your plunger
Before you start, get a pair of gloves on as it might get messy.   Get yourself a plunger and place it into the toilet making sure that there is water above the rubber part of the plunger and then pump vigorously.
Be patient and try 15-20 pumps. This should clear most toilet blockages.
3)  Do not use chemicals
If you fail using the plunger, please do not try to use chemicals as these can cause damage to the environment.  Also, if they come in contact with your skin they can cause irritation or burns.  Try to avoid whereever possible.
4) Call in My Plumber Professionals
If you don't have any luck trying to remove the toilet blockage yourself, then you can give us a call and we will get one of our skilled drainage engineers to sort it out for you.  Call My Plumber on 020 3078 5920
How to unblock a toilet
Need help? Hire the London Property Service experts today by giving us a call on 020 3078 5920.