How to Access a Concealed Toilet Cistern in 10 Steps – Simple Maintenance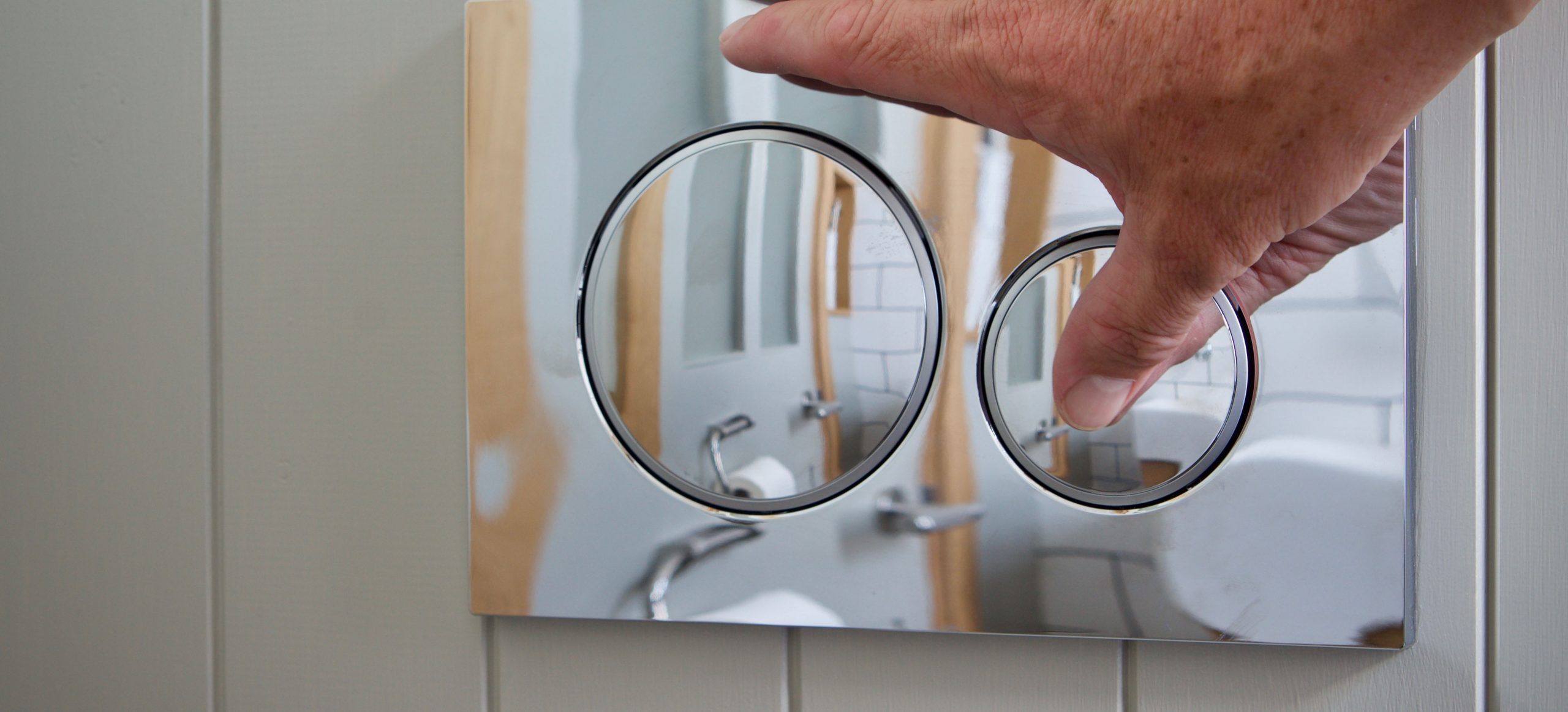 At first glance, a concealed toilet cistern seems impossible to access. But… What if the hidden toilet tank is overflowing? Or won't stop flushing? How do you fix these if you have no access? In this post, we'll answer this and more questions, and share a couple of essential maintenance tips on the way. Prepare your tools and arm yourself with patience – it's DIY time!
Before we begin, it is important to mention the following – if you don't trust your DIY plumbing skills, it is always a good idea to find an experienced plumber.
What is a Concealed Toilet Cistern?
It's a hidden toilet tank that is concealed behind a wall or inside of a piece of furniture. The concealed cistern saves space, and it's aesthetically pleasing since all you see is a flush plate right above the toilet. Now, let's find out how to access it.
How to Get Into a Concealed Toilet Cistern in 10 Steps
There are many brands of toilet units out there, all famous with their varying features. Luckily, getting into their hidden cisterns usually follows the same rules. For this exercise, you may need nothing more than a screwdriver and a bit of patience. Here's how to access a concealed toilet cistern:
Step 1

.

Locate the toilet cistern's push button. 

Step 2.

Slightly lift the cover plate and remove it. If it's levelled with the wall, try to push the bottom while rotating the upper edge towards you. Be very careful, as sometimes there might be air hoses connected to the buttons. Disconnect the hoses gently.

Step 3

.

Carefully remove the flushing rods located at the centre of the concealed cistern frame. Rotating them anti-clockwise and slowly pulling them backwards will do the trick.

Step 4

.

Unfasten any plastic bolts manually to release the frame. If there are fasteners present, use the proper screwdriver based on the bolts' type.

Step 5

.

Some concealed cisterns may have a debris plate that serves to protect against waste. Remove it by locating and squeezing the latches

.

Step 6

.

Turn the isolation valve, which is usually marked with a blue, yellow or red handle. This will stop the cold water flow.

Step 7

.

Discharge any water currently present in the tank. Lift the siphon bracket mechanism out by locating the small button on its lower parts. 

Step 8.

Use your hands to turn and take out the water hose from the float valve. It's fairly easy, as those usually have a seated O-ring attached. Avoid cranking the O-ring too hard.

Step 9

.

Find a lever on the back of the float valve and push to release it from the backplate.

Step 10

.

Last but not least, press the lever on the back of the siphon unit. Turn and patiently take the siphon out of the cistern.
And there you have it. Assuming you've correctly followed all the above steps, you have just gained access to your built-in toilet tank. Now it's time to do some maintenance, and then, of course, assemble your toilet tank back.  
Concealed Cistern Maintenance
Start by giving it a good wash. Feel free to start the water flow and use the water hose to your advantage. Make sure that the bottom of your cistern is clear of any debris. And if you find any larger particles, pick them up and throw them out. 
Check the rubber seal on the bottom of the toilet cistern siphon. If it seems damaged or worn out, get your hands on a new one. This one is usually the culprit for both the flush not working or the cistern filling up slowly.
Extra Tip: If you know the exact height of your toilet system, you could order additional parts online.
And if any of the push buttons of your toilet aren't functioning properly, make sure to:
See if your flushing rods, mentioned in Step 3, have multiple segments. Usually, those can be broken to fit to size.

Release button snaps to check if any small or large parts need replacing.
The rest of the maintenance comprises disassembly of the float valve and the siphon itself. For this part of the process, however, it is highly advisable to call skilled professionals offering plumbing services.
Concealed Toilet Tank Assembly
After a successful internal clean of your concealed cistern, now it's time to put it all back together. Simply follow the process below step by step and you'll have your tank assembled in no time.  
Carefully snap the siphon back to its place. A small click sound indicates that you've inserted it back correctly.

Do the same drill for the float valve.

Avoid

messing with the adjustment mechanism.

Connect the water hose to the float valve by tightening the o-ring. As mentioned earlier, it doesn't need a hard crank.

Insert the siphon's bracket mechanism through the "eyes" of the siphon itself. Test if it's working.

Mount the debris plate.

Mount the push button locating plate. Fix in place with its bolts or fasteners.

Install the flushing rods. Make sure to listen for the click sound and to test the rods' system.

Attach the push button's panel.
Bonus Toilet Plumbing Tips
Here are some extra must-know tips for any DIY plumbing enthusiasts out there:
Try to determine if your inlet valve is sticky. If so, it's time to replace it.

Dual flush systems save water. In addition, they are beneficial to your bills.

To fit pipes more easily, use a little bit of dishwashing liquid.

Always read the instructions provided with your toilet system. That way you can save time and avoid any technical issues.
Takeaways
Follow the disassembly steps carefully to reach your concealed toilet cistern.

Maintaining your system is possible without you being proficient in plumbing.

Always assemble everything back in the correct order to avoid any issues, such as leaks and overflows.

If at any moment you feel knackered and uncertain of your actions, get an experienced plumber to help you out!
How to Access a Concealed Toilet Cistern in 10 Steps – Simple Maintenance
Need help? Hire the London Property Service experts today by giving us a call on 020 3078 5920.