How to Make the Most of a Small Bathroom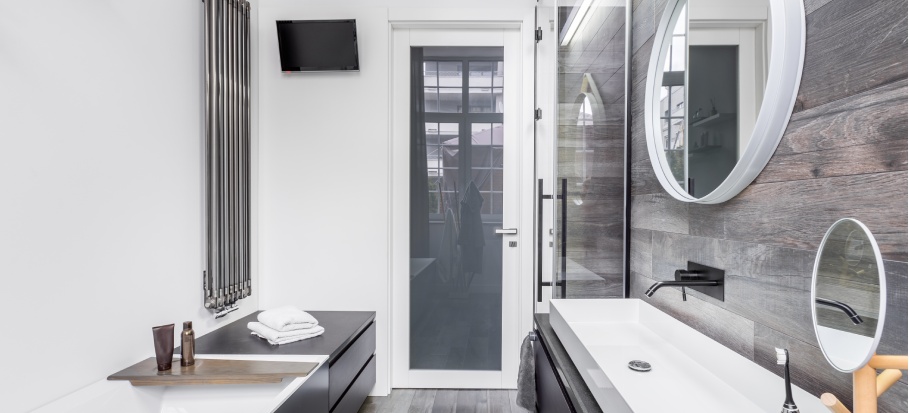 Just because a bathroom's small doesn't mean it can't be comfortable. Sure, limited square footage presents a challenge, but, at the same time, it invites creativity. Being forced to work within the constraints of tight quarters gives you a unique opportunity to figure out how to furnish and organise the room in such a way as to make it most useful. 
And, as plenty of smart bathroom designs demonstrate, it's totally possible — if you remember that in a small space, all of your design decisions have a major impact. From choosing floor tiles to embracing the right colour scheme, here are a few small bathroom ideas and remodelling tweaks, which can help you to visually expand the space and make it feel larger than it actually is.
How to Make a Small Bathroom Look Bigger?
To repeat, the smaller the space, the more important every aspect of its design. This is because every choice makes a big difference when each aspect, proportionately, affects so much of the room. Therefore, in a little bathroom, your goal needs to be to select all your design components to conserve or expand space. Doing so can help you create the illusion of a bigger room—and make daily routines more satisfying. 
With that in mind, here are 13  space-saving bathroom remodelling ideas for where to start:
Replace your traditional vanity with a floating design. You don't have to gut-renovate your bathroom to make it look and feel bigger; instead, try swapping out something large, such as the vanity, to transform the way the room appears instantly. Raised from the floor and mounted to the wall, a floating vanity not only takes up less space, but it also allows more light to bounce through the room to create a sense of openness. Likewise, flooring can extend all the way to the wall beneath the vanity, making the room look a little bigger.
Consider a corner sink

. Not interested in a floating vanity? Another way to waste no space in your vanity choice is to

install a corner sink style

. Tucking the sink into the wall corner frees up traffic space in the bathroom and can create a less awkward overall arrangement.

For the tiniest spaces, go with a skinny trough sink

. "Some bathrooms can't even accommodate a standard-sized floating or corner vanity. In these cases, trough sinks are excellent space savers.", commented Erica Garland at

Modern Bathrooms

, offering a wide choice of products and collections you would need for any bathroom renovation project. "Specially made to be narrow and sleek, trough sinks have a low profile that looks modern and minimal while giving you maximum floor space to move around in the room.", the expert adds.

Redirect the bathroom entry door

. Do you have a bathroom door that swings into the room, taking up floor space in the process? One great way to gain a sense of square footage is to redirect the door to swing outward or to replace it with a pocket door that slides in and out of the wall. 

Opt for a glass shower panel instead of a swinging door.

Another door that wastes space is the shower door. If yours swings out into your precious bathroom square footage, opt for a sliding glass panel door instead. This design solution provides clear visibility through the whole room, helping it feel larger, yet it doesn't cut into the floor plan. 

Maximise your mirror.

If possible, go for a mirror that extends across the wall instead of only above the vanity. A large mirror bounces more light through the room, provides visibility for multiple bathroom occupants and can make the room feel bigger in the process. 

Look for pieces that serve double duty

. When space is at a premium, every fixture needs to pull its own weight—and that means multifunctional pieces make sense. So ask yourself where one item could fulfil the role of two: a medicine cabinet that's both a mirror and storage space, perhaps? Other possibilities: If you have a closet, adding slim wall shelves behind the door gives you more places to store toiletries. If you've got a deep drawer, don't waste vertical space; use functional boxes to tuck away more products.

Don't waste the space above the toilet

. Wall space above the toilet doesn't have to stay bare. Mount a cabinet or shelves to the wall to gain more space to store stuff. Open shelves preserve as much visible space as possible while still giving you extra storage. Display useful bathroom items that are pretty to look at, from attractive toiletries to glass jars of cotton balls and Q-tips, to wicker baskets tucking away washcloths.

Choose towel hooks instead of bars

. The towel bars so typical in vintage bathrooms tend to take up more space than necessary. Opt instead for streamlined hooks, which require minimal room to mount on the wall. 

In terms of colour scheme, stay neutral

. You may love deep, moody paint shades, but if you're after a bigger feel in the bathroom, stick to light and bright neutrals, which tend to open up a room. You can still get your colour fix through accessories such as towels, toiletries, etc. Likewise, paint the ceiling either the same colour as the walls or a lighter shade in order to create a spacious feel. 

Opt for the right tile size and design.

The more grout lines, the smaller your bathroom will look. So unsurprisingly, large rectangular tiles (such as 30×60 cm) with fewer grout lines can make the space both more atmospheric and relaxing. However, sometimes, with a glass mosaic accent, you can expect more light there bouncing around, which in turn creates a statement and the illusion of a larger bathroom. Also, the professionals' technique of setting the tiles in 45-degree diagonal pattern can make the bathroom floor look wider than it actually is. The secret to a successful bathroom remodelling project is to draw a floor and wall plan to scale. Your best bet is to entrust the job to a reliable

bathroom fitter

who can do this for you and tackle anything from start to finish.

Hide pipes behind the toilet.

Pipes and other plumbing fixtures are an essential part of every bathroom as they bring water for your every day's needs. Yet, they are far from an attractive addition, and also clutter your precious space. Unless you are inspired by the industrial style, get your unsightly plumbing concealed in the walls, floor, or ceiling so that they cannot be seen. Can't afford new concealed bathroom fixtures? Another option is to assemble a few wood pieces and box-in the exposed pipework from your bathtub, radiators or boiler.

Ensure comfortably heated small bathroom space

. Bathroom size is a sensible factor to consider when you pick a bathroom heater. When you are short on space, the wall-mounted heated towel radiators are extremely versatile, compact units because of their slim design and mission to dry your wet clothes or towels. So before shopping, you should select a size that is proportional to your bathroom. Be warned, however: to get the most out of your bathroom heating, you need to calculate the

BTU

accurately or ask a

radiator installer

to help you out. 
Learn more: My Plumber's guide on different toilet styles for big and small bathrooms.
The Beauty of Small Bathrooms
Many people dream of huge, luxurious bathrooms, but the reality is small spaces have their own appeal. In small space bathrooms, you can fit everything you need—a sink, a toilet, a shower and storage space—into less square footage, making the room more efficient. Plus, when a room is smaller, it's easier to clean and organise. It also discourages you from hoarding stuff you don't need. 
Most of all, though, small bathrooms offer plenty of potential. If you're willing to think strategically about what you include and how you organise it, even the littlest lavatories deliver daily luxury.  
How Much Is It to Fit a Small Bathroom?
When planning a small bathroom installation, a few variables define the final cost, ranging from costs for fixtures you need to supply and fit, to time spent on the project, your location, pipes alteration, and the list goes on… We don't want you to get riddled with confusion, so we've gathered the average basic bathroom installation cost from past projects – £2,500 to over £6,500
At My plumber, we send a bathroom fitting expert to take a look and consult with you in order to crystalline your needs. You get a transparent, fixed-price quote in 7 days after the survey, which includes everything you need to get the bathroom "revival" project completed. 
Looking for ways to decorate your small bathroom on a budget? Well, a bathroom fitting project can get really costly, but you can save money if you shop smarter, compare furniture prices, and become a member of our loyalty Fantastic Membership Club. 
Takeaways
In any home, bathrooms are high-traffic areas that make a significant difference in day-to-day life—even when they're small. Many people wish to make their bathrooms look and feel bigger, not only for better functionality, but also for comfort and aesthetics.  
The good news is, there's a lot you can do to make a small bathroom feel larger. Follow the 13 tips above to maximise the space you have and get to enjoy it as much as possible. Through these design choices, a room with a small footprint can still feel as big as possible.
Image source: Dariusz Jarzabek / Shutterstock.com
How to Make the Most of a Small Bathroom
Need help? Hire the London Property Service experts today by giving us a call on 020 3078 5920.