Nest vs Hive Smart Technology
Smart heating solutions for your home come in many shapes and sizes but 2 of the most well known are Nest and Hive.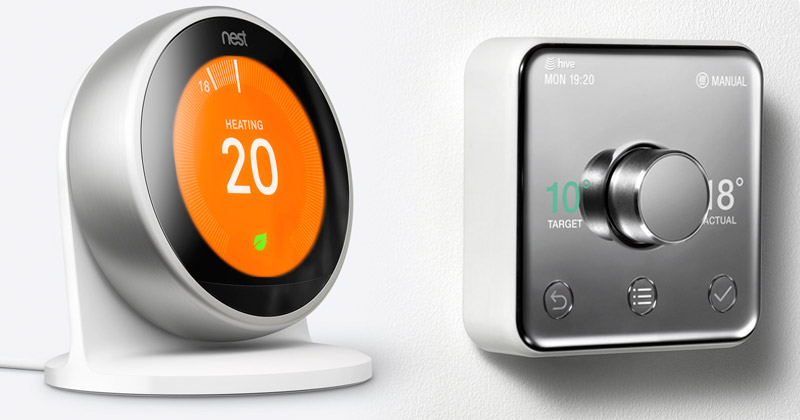 What do these systems do?
Essentially, what these smart technology systems do is allow you to control your home heating systems remotely via apps or manually via a thermostat. You can schedule your heating to switch itself on, or off, at the touch of a button. Both have slightly different offerings in terms of their look and the features.
Who are Hive?
We've all seen the annoying Hive television advert where the man informs us that Hive lets you control your heating from anywhere with your phone then proceeds to waffle on for the next 30 seconds singing about random nonsense. It's probably not done the company any favours in attracting customers. British Gas, who own Hive always have plenty of budget for advertising their products but customers would have benefited from learning a little more about smart technology rather than having their ear-drums with a barrage of rhyming nonsense that bears no relation to the product itself.
Hive have also introduced a range of accessories including smart plugs and lights.
Who are Nest?
The other front runner, Nest, is owned by Google and, as you might expect, have introduced a number of accessories to compliment their device. The complimentary add-ons are designed to work in combination with other 'Works with Nest' smart devices.
How have these systems evolved?
The latest Nest is in it's 3rd generation. Its interface lights up whenever you enter the room in which it's positioned to let you know either the temperature or the time. The boys at Google have even given this gimmick a name. Farsight. Additionally you can also choose from an analogue or digital clockface, an essential requirement for some!
Over time the Nest Learning Thermostat 'learns' about your home heating preferences and patterns and will automatically adjust it's settings to use the exact amount if energy that's required to heat your home. The savings on energy consumption can be as much as…
Both Hive and Nest systems have similar parts and installation should be carried out by a professional installer certified professional qualified engineer. This is due to the fact that both systems has a component that connects/controls/communicates to your boiler.
Although Hive doesn't have this functionality it does have the capability to notify you if it thinks you've left the heating on when your not at home. You simply dial in and adjust the settings to whatever you need.
The nest includes a network hub, the thermostat and a regulator that connects to your boiler. The system is mains powered whereas the hive is also battery powered so you can position the thermostat wherever you like.
The thing we like most about Nest is that you also get a stylish stand so you don't have tp put it on the wall like the hive.
As you might expect from Google, the Nest Learning Thermostat has a sleek and stylish design compared to it's counterpart from British Gas. The latest Nest has the biggest screen size of its predecessors and it's also larger than the latest Hive screen. Hot water tank has also been added for UK and European customers.
The latest Hive (Hive Active Heating 2) has the same basic core functionality as the older model but the interfaces have been updated and are completely new. There are also a choice of 'shells' to choose from to compliment your interior decor. It has a more modern feel than the older model but still, in our opinion, falls short in comparison to the Nest.
Pricewise the 2 systems are very similar. Older Hive models were considerably cheaper. It's important for installers to be compentent with wiring so we'd suggest hiring a professional to carry out the task for you. That way you will eliminate any potentially costly problems that could arise from incorrect installation.
Both systems work with, according to the manufacturers, any working gas boiler. If you have a LPG heating system, system boiler, heat-only boiler or any other type of heating system it's worth giving us a call to discuss which system will best suit your set-up and your needs.
The best things is that the Nest system can, through sensors in the thermostat, detect whether you at at home or not. When your not it will automatically adjust its settings and turn the heating down. The location of the thermostat has some influence on the exactness of this reading. However you can add multiple thermostats to your system, putting them in different locations so that the system can combine the data for better decision making. It's also possible to set up separate schedules if your home heating is zoned.
Hive has always provided hot water support but the latest Nest also offers this for customers so that it now can control a separate hot water tank – an important consideration for many households.
Nest vs Hive Smart Technology
Need help? Hire the London Property Service experts today by giving us a call on 020 3078 5920.