Boiler Pressure Too High – Find Out Why and How to Reduce it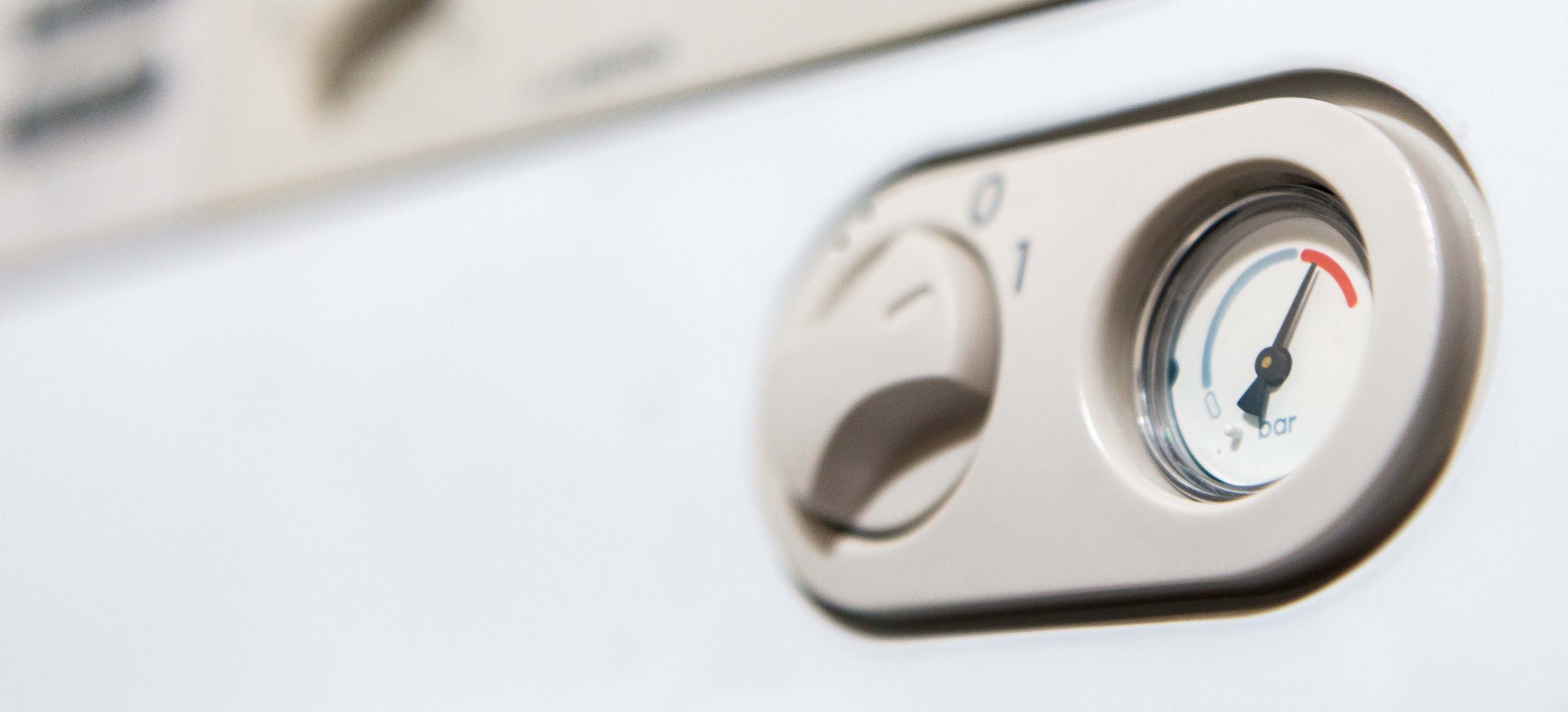 Boiler pressure is the balance between the water and air that runs inside your heating system. Each system has a pressure gauge in the panel underneath it, which shows the exact readings. When the gauge on your boiler shows an alarming error code on its digital display, then you might be dealing with boiler pressure too high or too low. 
Who else should read this guide on gas boiler pressure:
People who have had a boiler previously serviced by "cowboy" heating engineers who have done a poor job, causing the unit to fail;

People who have missed their annual boiler servicing;

People who didn't estimate how much water the central heating system needed, resulting in faulty boiler processes;
But First: How Do You Know if Your Central Heating Boiler Pressure is High?
What should your boiler pressure be when the heating is on? Most, if not all, pressure gauges have coloured markers for the safe and unsafe conditions of the pressure inside of your appliance. Ideally, when the boiler is on, the pressure should be between 1,5 to 2 bars, and when it's not working – 1 to 1.5 bars. Usually, safe levels of the pressure are marked in green, and too low or too high-pressure is marked in red.  
We consider high boiler pressure when the arrow points in the red zone exceeding 2 bars. In fact, that's not dangerous but can lead to costly damages to your heating system, and if it's high enough, it can reduce the boiler's efficiency. Unless your boiler has a faulty pressure gauge or lacks one at all, looking at it is enough to know that your appliance is in trouble.
Hey, boiler pressure rising to 2-3 bars?! Why is it too high?
Seeing the pressure gauge reaching or going above 2 bars is a clear sign that something is not right. There are several things that can cause high pressure in the boiler: 
Recent boiler re-pressurising – if you've recently performed this regardless of the reason, the pressure may have been wrongly estimated and thus now it's rising. 

Overfilled with water – Too much water in the system can cause a pressure increase. 

Faulty parts – regardless of whether your appliance is brand new, some parts can stop working altogether or partially, and that may lead to an increase in pressure.

Boiler lifetime – For units of 10 years or close to that, this is a usual issue. Boiler losing pressure or going too high can be a problem caused by the age of your appliance.
What happens when your boiler pressure is too high? Can the boiler explode?
What's the worst that could happen if boiler pressure is too high? Your unit can start leaking or some internal elements can get damaged, so it's not a minor problem or one you should overlook. If pressure problems arise, call a professional for your boiler repairs in London.
Manufacturers make modern boilers to endure high pressure and most units should be safe, however, on rare occasions boiler explodes if it's old and you have neglected it for a long time. Some modern heating systems have pressure relief valves, but you shouldn't rely on that. High pressure is rarely the reason for a boiler explosion, but various other reasons such as faulty internal parts can cause it.
How to Reduce Boiler Pressure
Reducing boiler pressure is crucial for keeping your appliance safe and sound, returning it back to its normal performance and effectiveness. Keep in mind that both high and low-pressure readings mean no good for your heating system's performance. Reduce the pressure too much, and you will have to repressurise your boiler. 
And here are the things that can reduce boiler pressure:
Drain an overfilled central heating system
One of the simplest things you can do to reduce the pressure is to drain the excess water from the central heating system. Look for the drain cock on the system and let some water out. Prepare a bucket to collect the water and a mop, in case of accidental spills. 
While draining the water, keep your eye on the boiler's pressure gauge to track any changes that may occur. 
Bleed radiators to release airlocks
Does bleeding radiators affect boiler pressure? Yes, if the problem is the air and water ratio inside of the system. If the problem causing the pressure to rise is something else, then bleeding won't achieve anything. 
To bleed a radiator helps release the air out of the system and bring the water's flow back on track. The release valve is usually on the top right side of the radiator and you need to turn it with a bleed key to let the air out.
You can do this yourself, but keep in mind that sometimes this is a messy job and you will need a bucket and some towels to collect the water that comes out.
Tools you need: radiator bleed key, cloth or a bucket.
What to do: Turn the release valve so the air and excess water can get out of the system. 
Costs: Some DIY enthusiasm and around 15 minutes of your time, based on how many radiators you need to bleed.
Troubleshoot boiler issues, if any
Sometimes when the pressure is too high, the boiler might leak at the same time. In such cases, it's important to troubleshoot the issue and determine what is the cause and what is an effect. For example, high boiler pressure can cause leaks, and an overfilled leaking appliance can cause high pressure. 
As soon as you spot the increased pressure and leaking water be sure to:
Turn off the water supply.

Turn off the heating.

Clean all the mess.

Have the boiler inspected by a gas safe engineer.
Tighten up or replace defective valves
Sometimes, one of the reasons behind high boiler pressure is a faulty valve. A defective valve may cause the water to spill into the heating circuit which, in turn, causes the pressure inside of the system to rise. If the valve is loose, try tightening it and if that doesn't help, then you will need to replace it. Only a Gas Safe engineer should do the latter.  
Boiler Pressure Keeps Rising? Here's When You Should Call a Boiler Engineer
Is your boiler pressure still high even after bleeding radiators? Well, you might be dealing with a serious issue, so better find a boiler engineer to inspect it. Additionally, if several of the fixes have been applied and the boiler pressure keeps rising, that is a clear sign that may need a new boiler. 
For your convenience, check the control panel of the boiler for error codes. In the table below, you'll see the code variations based on the boiler brand. 
Please note that your boiler engineer would be much happier if you tell them what error code you're seeing on the control panel. This will help them provide you with a correct quote for the job, and will also give the specialist an idea about what the problem is. Thus, they will prepare for the job in advance and save both of you time. 
| | |
| --- | --- |
| Brand-related boiler pressure problems | Error codes |
| Worcester Bosch boiler pressure too high | A1, E9, 224  |
| Vaillant boiler pressure too high | F.12, S.41, F.74, F.75 |
| Ideal boiler pressure too high | Water pressure, F1, most problems are described without codes |
| Ferroli boiler pressure too high | A37, A03 |
| Baxi boiler pressure too high | 117, 162, 166, E164, H.02 – .06, E117 |
| Glow Worm boiler pressure too high | F32, F73 / F74, boiler locks out within 10 seconds, F9, F09, F.74 |
| Vokera boiler pressure too high | AL40, AL41, E040, E041, or system message |
| Potterton boiler pressure too high | E117 |
How to Prevent Boiler Pressure From Going Up
Once the problem is fixed, whether you've determined the reason for the increased pressure or not, there are some things you can do to prevent it from happening. 
Be careful not to overfill the system. 

Bleed the radiators regularly. This will let the air out and decrease the pressure inside of your system.

Schedule a

regular boiler service and maintenance

with a reliable company.

Close the filling loop – two valves that let the water inside the system. Keeping them open for long will let more water inside your system and cause pressure to rise again.

Get your expansion vessel checked,  as this is the part of the system that keeps the pressure consistent and prevents sudden changes. 
When it comes to fixing a problematic central heating system, replacing parts or re-pressurising the boiler, please always call a Gas Safe Registered engineer. These are not DIY tasks, and you can do more harm than good if you attempt DIY fixes. 
Takeaways
To sum up the guide, here are the main takeaways to remember:
High boiler pressure isn't dangerous and your boiler won't blow up.

Low boiler pressure is not good for your heating system too.

There are many reasons that can cause the pressure to increase. 

You must discuss the error codes with the engineer ahead of time. 

Aside from bleeding radiators, all other fixes must be performed by a specialist. 
Boiler Pressure Too High – Find Out Why and How to Reduce it
Need help? Hire the London Property Service experts today by giving us a call on 020 3078 5920.