How to change a kitchen sink
Kitchen sinks come in all shapes and sizes and swapping out your old sink for a lovely new one might not be a such a tricky procedure
Of course this depends on a number of variables such as whether the dimensions of your new sink match the old sink. If your new sink is larger you'll need to make sure that your kitchen worktop is recut to size so that the new sink will fit nicely.
The construction material of your new sink can also impact on the amount of work involved. A ceramic sink and much heavier than a stainless steel sink so you'll probably need a pair of additional helping hands when it comes to installing a new ceramic sink in your kitchen.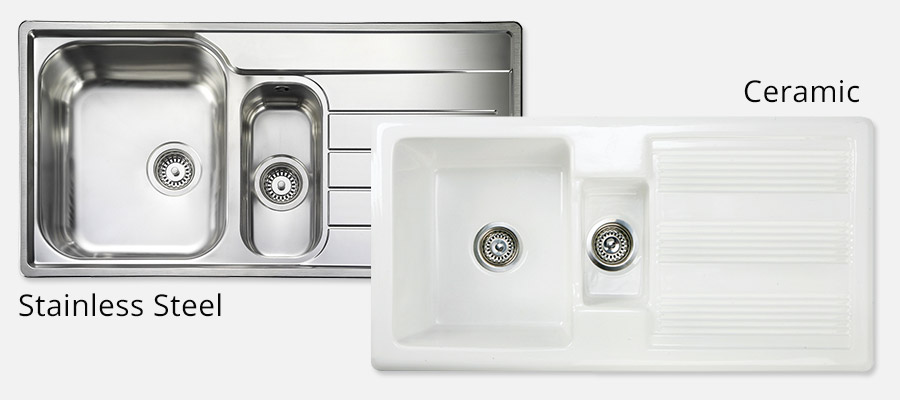 The position of your hot and cold feed will also affect the difficulty of the installation. You'll likely need need some specialist tools such as a tube spanner to reach the nuts and remove them. Under most kitchen sinks you'll find a web of pipes and valves to navigate and the majority of the time the nuts that you need to get to are obscured by the sink basin making them tricky to reach.
On older sink installations it's very likely that your feeds are copper pipes that connect directly to your kitchen tap. We recommend that if you are installing a new sink to replace these rigid pipes with flexible taps fittings to make any tap replacements in the future much easier to do. This might involve cutting the existing rigid copper piping so that the new flexible pipes can be fitted.
As you can see already, fitting a new kitchen sink can quickly turn from being a relatively simple procedure procedure, that most DIY enthusiasts can tackle without much issue, into a plumbing job that requires specialist skills and tools. This is where it could be a better option to call one of our experienced plumbers to carry out the task.
Removing the old kitchen sink
Before your can lift out your old sink you'll need to perform 2 very important procedures.
1. Turn of the hot and cold supply to everything
2. Disconnect any waste pipe (the plug hole pipe)
Once the hot and cold feed and waste pipe has been disconnected you can remove the sink.
Start by disconnecting the taps from the hot and cold water feed pipes under the sink. Depending on the location you may need a tube spanner or other specialist tool to access the nuts and slacken them off.
You might find that your sink, especially if it's a stainless steel sink, has been secured to the worktop with silicone. You'll need to cut or score the silicone round the edges of the sink with a sharp blade. We recommend a Stanley knife.
Now you need to go about removing the old sink. Most are attached to the underside with a small clamp that you can undo with a slot head or phillips screwdriver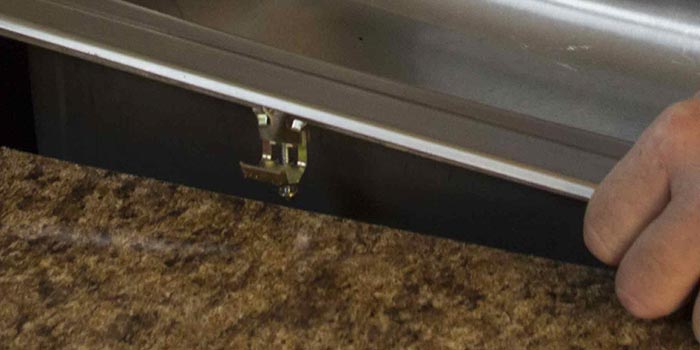 There are usually about 10 of these clamps around the underside of the sink, clamping the sink to the work surface surrounding the basin. Simply unscrew them all and then you should be able to lift out your old sink.
Fitting your new kitchen sink
Before anything else you'lll want to clean down the sides of the worktop and remove any scum or old silicone. More importantly make sure that the hole is big enough for your new sink. If it isn't its best to turn the new sink upside down on your work surface and draw round the permitre This will mean that when you start cutting your new hole you have a precise guide to follow.
Once you hole is cut to size it's a good idea to mock up the new sink before doing any sealing to make sure that everything is ok.
Kitchen taps come in many shapes and sizes so a new kitchen sink won't be preconfigured with a hole to accommodate any taps. This is something you, or a plumber, will need to do.
One of the worst moments is punching through a ceramic sink and creating a suitable hole for the taps. Its recommended that you use one of our professional plumbers to fit a new ceramic sink in your kitchen simply because we are experienced at this particular procedure. The last thing you want is to crack the ceramic and ruin your sink completely.
Once all that is done its time to permanently fix the sink into place.
A ceramic sink, because of it's weight will stay in place just with a bit of silicone to secure it in position. With a stainless steel sink you'll need to fit the clamps that are supplied with the sink to the underside.
Before dropping the sink into the hole carefully deliver a line of lear silicone round the perimeter of the worktop. The smaller the line the less you'll have sticking out the side and the less clearing up and mess you'll have. There's nothing worse than silicone everywhere. There a definite knack to this so using a professional plumber might be the best solution.
Now that everything in in place it's time to fit a new kitchen mixer tap.
If you need one of our highly experienced plumbers to fit your new sink or have any other plumber work, you can contact us anytime to arrange a convenient time to visit.
Disclaimer: The information on this web page is presented for general guidance purposes only and is supplied without liability. Such information is provided in good faith. Whilst every care has been taken in its preparation, no responsibility is accepted for any errors or omissions which it may contain. The information on this may be updated or changed at any time without warning.
How to change a kitchen sink
Need help? Hire the London Property Service experts today by giving us a call on 020 3078 5920.