How to Choose a Smart Heating Thermostat – A Buying Guide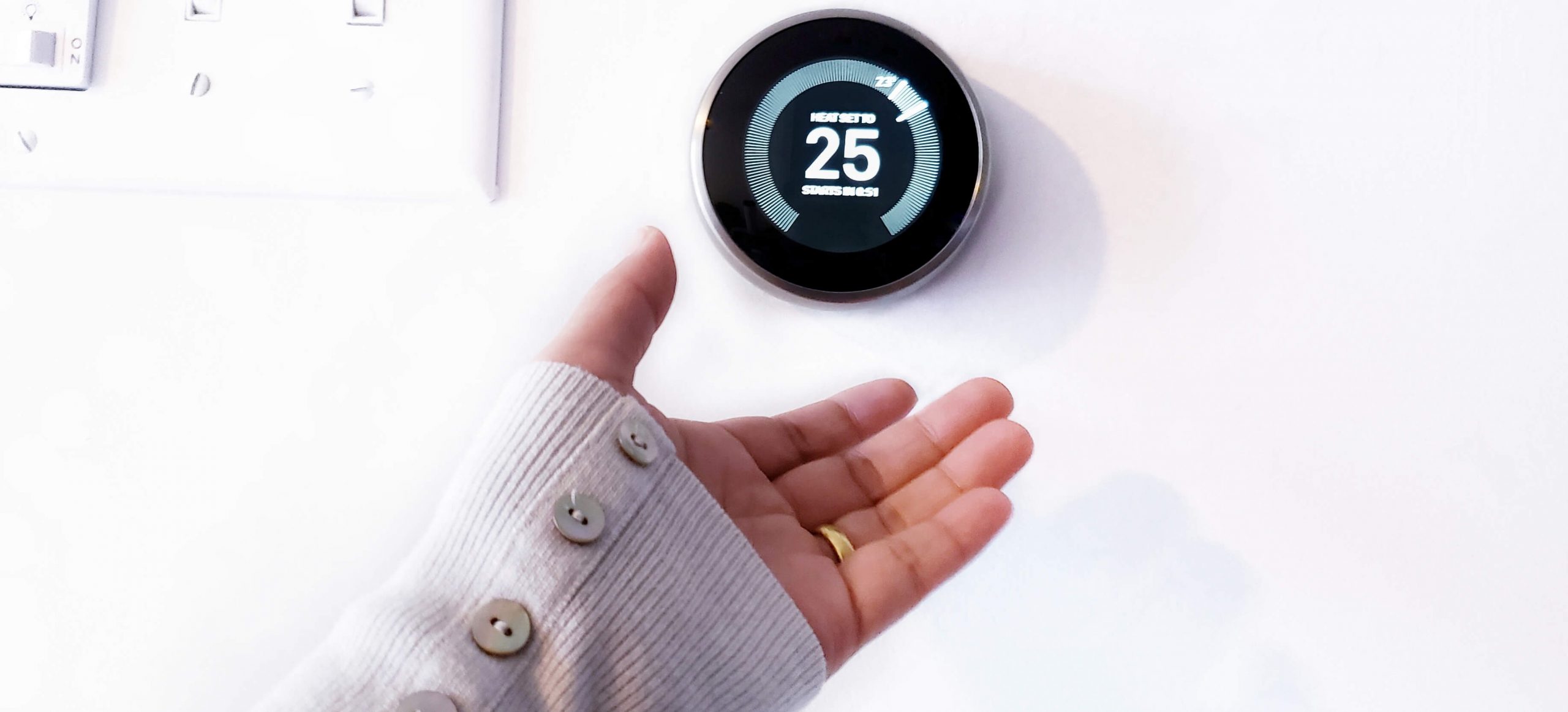 Is it time to update your home? Do you know the benefits of smart heating? Well, this article will be your complete guide on how to choose a smart heating thermostat.
Smart thermostats operate more efficiently and help not only control your central heating system via an app. Depending on the type you choose, they can self-regulate based on your habits and heat preferences, among the many other smart features.  
How to pick smart thermostats can be a bit of a challenge with the wide variety out there, but regardless of what you opt for, they all serve the basic purpose of helping you heat and cool your home. With this efficient temperature adjustment system, you will not only reduce your bills but will also reduce your carbon footprint.
What is a Smart Thermostat?
Smart thermostats are usually connected to your Internet and are managed via an app. A standard one can help you set your heating to start at a particular time of the day but what if you want to turn it off? You can't stop it from a distance if you have changed your plans and will be late. But if you are a creature of habit and spend most of the day at home, a smart thermostat can still help you regulate the temperature in your home in a better way.
Some common features of those modern regulators are geofencing, settings to keep your pipes from freezing, water regulation, constant feedback and overview of your heating and cooling patterns. Smart thermostats usually cost between £150 and £300, depending on the manufacturer and the model.
It is also important to know how it differs from a smart meter. The government, gas and electricity suppliers distribute smart meters for free. They generally monitor and show feedback usage data to you and your supplier to optimize the utility supply.
What is a Programmable Thermostat?
A programmable thermostat also has a digital interface, but it can't be connected to your Internet and managed remotely. The newer models allow you to set your desired temperature, and most of them offer the option of an automated schedule. You can programme a few starts and shut-offs daily or weekly, and that lowers your monthly bills.  The cost of a programmable thermostat is lower compared to a smart one and usually varies between £20 and £100. Whether you choose a smart or programmable thermostat, better learn how to use it effectively, or you won't take that much advantage out of it.
Useful Features of Smart Heating Thermostats
Although smart thermostats are a step forward in managing our own homes, there are some that are better than others. Some of the key features to look for in a smart thermostat are:
Geofencing – Since you are most probably going to manage your thermostat from your personal phone or laptop, the app can monitor when you are inside your property or have left for work and adjust the temperature accordingly.

Remote Access – Access your smart thermostat's settings from anywhere and adjust, depending on your changing schedule.

Motion and Proximity Sensors – Enjoy the warm welcome of your home or turn the heating on in a room you just entered with motion and proximity sensors in every area of your property.

Smart Home Integration – Most smart thermostats can now be connected to Alexa, Google or Cortana and be managed by your voice command.

Learning – Being smart, your thermostat will look for patterns and adapt to your needs and temperature requirements.

Simple Installation – Many of the smart thermostats on the market offer a simple installation you can do yourself. Check if your thermostat requires a common wire or a C-wire and if in doubt, call professional heating specialists to help you with the fitting

.

Fluid Work and Elegant Interface – Your step toward a smart home does not have to mean high system complexity and a hard to read user interface. Choose the type of smart thermostat that has an elegant design and offers a fluid user experience.

Zonal Heating – If you live in a larger property and there are rooms you don't usually frequent or there are areas that keep warmer or colder than the others, zonal heating will help you achieve the right temperature in each room.

Weather Responsive – Thermostats with this feature will check the weather and adjust the temperatures accordingly.
How Much Does it Cost to Install a Smart Thermostat?
The cost of a smart thermostat will make sense when you compare it to all the benefits and money you will eventually save on your bills. The installation cost is usually not included in the supplier's offer, and you must either do it yourself if you can or arrange for a professional.
Depending on the model you have gone for, the cost to install a smart thermostat with My Plumber varies between £110 and £250.
How Much Money Can You Save With a Smart Heating Thermostat?
Smart Thermostat manufacturers usually say that you get a return on your investment in their product in under 2 years.  Reports show that this simple switch guarantees 10-15% savings on a yearly basis on heating and cooling, or about £100 yearly.
The Best Smart Thermostats According to Customers
There are several manufacturers that offer some of the best smart heating thermostats in the UK. While on the search for the right one, you will find that as they are alike, they also have unique features and offer a variety of possibilities.
Nest
The most well-known and, in our opinion, an efficient smart thermostat is Nest. It's sleek aesthetic, excellent features and ease of use make Nest the preferred choice and the unit we are most likely to recommend to our customers.
Why is Nest smart thermostat so preferred?
Easy to use
Relative affordability
Innovative ability to self-program
This smart device can learn and remember when you want your home temperature raised and lowered and then take over the job. Moreover, it's compatible with many other apps and systems used in your home. The second generation of the Nest Learning Thermostat will cost you £249, including professional installation. (£179 without installation).
Features
Auto-schedule and auto-away functionality
Learns how your home heats and cools so it can be at the right temperature at the right time
Access through your corresponding app to change schedule
Attractive, minimalist design that coordinates with any home's decor
The entire set-up is fairly simple to understand
The biggest weakness of Nest Thermostat is that it has no external sensors. Sometimes it's hard to keep temperatures steady if your home heats and cools unevenly in different rooms.
Hive
Hive Active Heating is a product owned by British Gas, available only in the UK. Though the price approaches the high end of the range at £249. However, an upgrade from the older versions is just £99.
Features
Can be easily adjusted from anywhere with the corresponding app or web tool
Has just a few buttons and a dial to control an LED display
No touchscreen, but has an attractive interface, easy enough to use
It's got geofencing, the enables you to set a home and an away temperature, totally dependent on your location
The app can also notify you if the heat is mistakenly turned up with no one at home
Frost protection to keep pipes from freezing
Includes holiday mode to keep the temperature low for an extended period of time
Hive, compared to Nest, can also work with your water heater to make that more efficient too.
There's no learning capability, which may be a drawback, though it is easy enough to change the temperature if you remember to do so. Hive can also support zone heating, but only if the radiators are already set up that way.
Tado
The unique selling point of Tado Smart is the integrated geofencing technology. It syncs with its smartphone app and accordingly lowers the heat when you leave. Moreover, when you approach home after work, shopping, or anything else, it warms up the house to get the right temperature when you walk through the door. This is a prominent feature, as long as you have your phone with you while leaving and approaching your house.
Features
Equipped with geofencing settings
Monitors the weather and daylight and warms up your home from the sunlight
Saves energy and money
Works with most HVAC units
Pristine white appearance to match any decor
Manufacturers claim that it can save you over 30% on your heating bills
the Tado app shows you how much do you spend on heating your house per day, in graphic format
The Tado Smart thermostat will cost you almost £199, without installation. Although, if you aren't ready yet to shell out two hundred pounds, the company lets you rent one for just £7.99 per month.
Ecobee
A little less known than Nest, Ecobee3 smart thermostat is very similar to its competitor. Priced almost £100 less, Ecobee offers some significant advantages over its more popular counterpart.
Features
A sophisticated interface that gives you temperature controls, shows weather and more with just a few taps.
The starter kit comes with one external temperature sensor, you can also purchase others to add to your configuration
Can be controlled via a smartphone app
Smart and compact design
Although it has some user gripes about the app's instability, plus, it needs a lot of power to run. Also, has problems with older homes with older wiring. Ecobee's smart thermostat is a great system to use in larger and newer homes, and surprisingly, it's very affordable.
Honeywell
At first glance, you might confuse the Honeywell Lyric smart thermostat with the Nest. The design is strangely alike: shiny, round, and with a large data display. Its functionality is also almost similar to the Nest one, though they have some differences too.
Features
Includes buttons to bring up a weather forecast, and a button to let the system know you'll be leaving the house.
Includes a proximity sensor to take the display from idle to full brightness when you get closer
You can set geofencing technology up to let it know when you're out of the house
It can also detect when the last person has left for the day if you live with family or roomies.
The Lyric will cost you around £200. Installation is fairly simple as it needs only basic wiring knowledge. You can also have an HVAC professional to take care of the job. Lyric is an Apple partner and works with Apple HomeKit.
For a more robust smart thermostat by Honeywell, you can also check out the EvoHome model, which is a fair competitor to Nest and Heatmiser.
Bosch
Offering precise climate control via the app, the Smart Home Radiator Thermostat from Bosch lets you control the radiators in each room via the internet. Creating separate zonal heating systems, it also detects temperature drops from an open window or a door and adjusts to save energy. Starting from only £60 it comes with an installation manual you can easily follow.
Lux
The app-controlled LUX/GEO offers a smart, easy to install and use thermostat. It is compatible with Alexa and Google. In addition, Lux has home and away geofencing and can be mounted vertically or horizontally on your wall. It works with nearly all conventional systems and has Clean Cycle® fan circulation, which keeps your home fresh. Priced at around £110 Lux offer an easy to install challenger for the best smart thermostats in the UK.
Takeaways
An easy upgrade from your old thermostat can help you save around £100 each year. Depending on the smart features you are after and the size of your property, you can hit break-even in under two years, bringing you only benefits like a reduced bill, reduced carbon footprint and a climate-controlled home.
How to Choose a Smart Heating Thermostat – A Buying Guide
Need help? Hire the London Property Service experts today by giving us a call on 020 3078 5920.