Unblocking and Fixing Sink Drains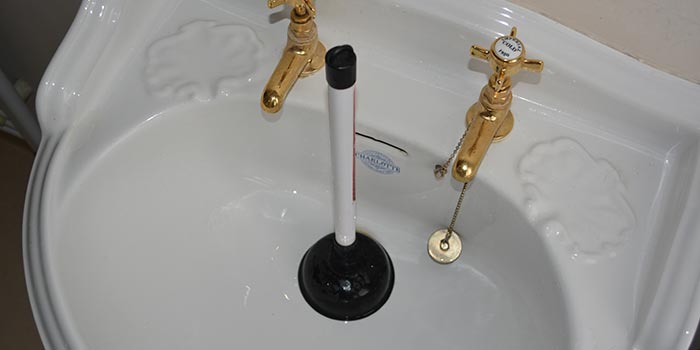 Blocked sinks are usually caused by soap residue and other debris that build up in the drain, usually around the plug-hole, u-bend or further down your drainage system.
Your kitchen sinks is more susceptible to getting blocked as they generally receive more grease and food stuffs that can, over time, block your pipes.
With your bathroom sink its usually a build up of hair and soap that collect over a long period thats causes the blockage.
Any type of blocked sink can be extremely inconvenient, especially in a family home, so it's best to get it fixed as soon as possible. If you're unable to clear the blockage yourself then give us a call to book a plumber to visit and fix it for you.
How to clear a blocked sink
Most people with a blocked sink will try is to remove the blockage with a plunger. Hopefully, you've got one stored under the sink! If plunging doesn't clear the blockage it's likely that the pipes are blocked further down your drainage system.
First thing to do is remove the plug stopper so that you have direct access to the drainage pipe.
There are different types of plug mechanisms around these days. You may have a traditional plug where a stopped is manually pushed in to seal the pipe so that you can fill your sink. Obviously this is then pulled out to drain the sink.
Other types of plug can include a …where the plug stopper is controlled by a button, usually positioned in between your taps. The button controls a pivot rod that pushes the stopper into an open, or up, position or down so that you can fill your sink with water.
It's also a good idea to insert a wet rag into the overflow hole to prevent air breaking the suction created by the plunger. Simply position the plunger over the drain and turn on your tap until water covers the base of the plunger. Then its just a case of pumping the plunger rod up and down rapidly to try to clear the blockage.
When to call a plumber to unblock your sink
If a plunger doesn't clear the blockage it's a good idea to give us a call to arrange a convenient time to visit your home and fix the problem. It's likely that the blockage is located further down the drainage system and more difficult to reach. Fixing the problem could entail dismantling the drain trap, or u-bend, as blockages are often found in this section of your pipes, or even further away from the sink.
We fix blocked sinks on a regular basis so are well equipped with all the necessary tools to clear the blockage quickly and get you back to normal.
FREE 'no obligation' drainage estimate
At My Plumber, we have a team of fully registered plumbers who can deal with all your drainage, blocked pipes and leaks in a timely and efficient manner.
We offer free 'no obligation' estimates which takes less than a minute to request. You can either:
Unblocking and Fixing Sink Drains
Need help? Hire the London Property Service experts today by giving us a call on 020 3078 5920.